Popularly known as SAP B1, SAP Business One is an ERP software tool designed for small and medium-sized enterprises or SMEs. This cost-effective ERP solution also serves as a business management tool that can manage every aspect of any small or growing enterprise.
Essentially, SAP Business One includes functional modules or ERP modules for business functions such as finance & accounting, customer relationship, sales & procurement, along with business reporting and analytics. Using these modules, SAP B1 integrates various functions under a single platform, thus improving collaboration, productivity, and operational visibility in any industry domain.
How does SAP B1 work in the business domain? Let's understand this in the next section.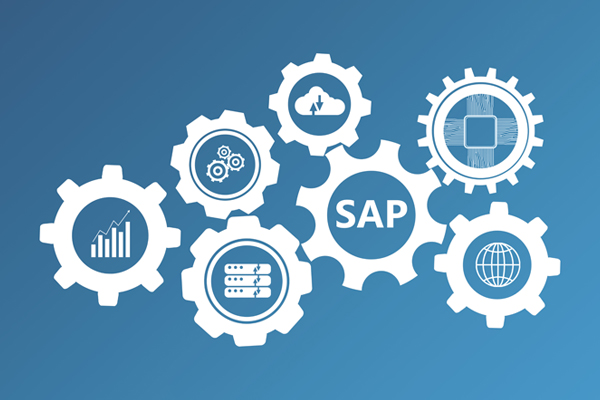 How does SAP Business One Work?
As an ERP tool, SAP Business One is designed to run on MS SQL Server and the SAP HANA platform. SAP B1 can be accessed by users through an on-premises or cloud platform. This solution is also available as a mobile app for remote users or distributed teams.
On the implementation part, SAP B1 is designed and executed for any enterprise through an SAP implementation partner. SAP B1 partners have implemented over 500 customized applications using SAP Business One.
Primarily, SAP B1 works through its functional modules that are integrated into the respective business functions in the company such as finance, procurement, human resources, and customer management.
To understand how SAP Business Works, we must understand the various features or functionalities of this ERP system. Let's discuss them in the next section.
5 Core Features of SAP Business One
Depending on the requirements, SAP customers can choose the SAP B1 modules that provide them with the most business value. Here are the 5 core features of SAP B1 that can maximize the benefits of investing in SAP B1:
1. Financial Management
Efficient financial management is essential for any industry or small business enterprise, thus making it a core feature of SAP B1. Using SAP Business One, any company can streamline its financial operations to improve its profits and revenues.
Here are some of the core elements of the SAP B1 Financial management module:
Business Accounting
Fixed asset management
Banking and reconciliation
Taxation
Financial reporting and auditing
By streamlining their financials, enterprises can also reduce manual errors and improve their financial decision-making process. Some of the additional capabilities of this module include:
Automating manual or repetitive tasks in business accounting.
Conducting banking transactions through a digital medium.
Integrating financial operations with external processes to improve cash flow and speed up transactions.
2. Sales and Customer Management
Sales and customer management is other core functionality in any business enterprise. To improve the sales workflow, organizations need complete visibility over the entire sales and customer support process. This includes the entire lifecycle from customer prospecting, selling, order management, and after-sales customer support.
Also Read: 6 SAP Business One Service Module Tools to Transform Customer Service
The Sales and Customer management module in SAP B1 enables organizations to manage their entire sales cycle efficiently. This ERP tool provides an integrated view of the customer base and prospects to understand and meet their requirements.
This SAP B1 module offers a host of tools that can deliver efficiency in the:
Sales and market opportunities
Marketing campaigns
Customer service
Mobile-driven sales
Sales reporting and analysis
Also Read: How SAP Business One Helps in Improving Sales and Marketing?
3. Purchase and Inventory Control
For any manufacturing or retail company including eCommerce, purchase and inventory control is essential for smooth business operations. With an efficient inventory and purchase management system, organizations can streamline their purchase operations and control costs.
The SAP B1 Purchase and inventory control modules allow companies to manage their entire procurement cycle from the customer order to the final payment and shipment. At any time, this module delivers real-time information on inbound and outbound shipments, inventory stocks, and the location of stored items.
The Purchase and inventory control module in SAP B1 includes tools for:
Master data management
Procurement
Accounts payables and receivables
Integrating warehouses with accounting
Also Read: How to Create Bin Locations in SAP Business One for a More Efficient Warehouse
4. Business Intelligence (BI)
In the age of data, small and large business enterprises are now relying more on data to make intelligent and informed business decisions. More organizations are now collecting and analyzing data from various data sources. For data-driven organizations, business intelligence (BI) is a core functionality that enables them to "make sense" of huge data volumes.
Also Read: 10 Questions to Ask While Evaluating Business Intelligence Tools
SAP B1 users can leverage its BI module to customize and generate reports based on the extracted data insights. Here are some of the BI capabilities offered by SAP Business One:
Accurate and relevant metrics
Fast access to relevant information
Data visualization and other intuitive tools
5. Data Analytics and Reporting
Along with Business Intelligence, companies require real-time data analytics and reporting to make accurate decisions. Along with capturing real-time data, companies require instant access to data through customized dashboards and reports.
With its data analytics and reporting module, SAP B1 enables organizations to analyze their data for insightful decisions and improved performance. Here are some of the essential analytics and reporting tools available in SAP B1:
Crystal reports convert raw data into insightful data presented through an intuitive dashboard.
Pervasive Analytics enables SAP users to customize data for predefined KPIs and boost their decision-making process.
Excel Report tool uses the capabilities of MS Excel pivot table to analyze business information.
Also Read: From Excel to ERP—Why You Should Make the Switch
Conclusion
Apart from these five core modules, SAP Business One has a host of industry-specific modules and add-on solutions that can drive business growth and efficiency. SAP B1 can automate and improve the productivity of additional business functions such as project management, supply chains, and procurement.
To summarize, SAP Business One works to meet the growing needs of small and midsized business enterprises across industry domains. It is designed to improve the functionality of every business function within the organization. To fulfill the potential of this ERP tool, companies must capitalize on the technical expertise and experience of an SAP implementation partner like Praxis Infosolutions.
Our team of SAP B1 experts fully understand the working of this ERP solution and how your organization can benefit from it. If you wish to partner with us, Contact us today.
Business Intelligence & Analytics..
Perfect enabler for insightful decision making.

Call us on

+91-88050 25521/18/19