We often see small and new business enterprises working with software tools such as QuickBooks or MS Excel spreadsheets. Particularly, MS Excel is a popular tool for companies looking to document their financial data.
While Excel is easy to use, it has its share of problems and limitations. A recent university report found that 88% of Excel spreadsheets contain manual errors. Another study by KPMG found errors in 91% of Excel spreadsheets.
This reason should be enough for you to consider switching from Excel to ERP such as SAP. Not convinced yet? Well, let us look at ERP vs. Excel.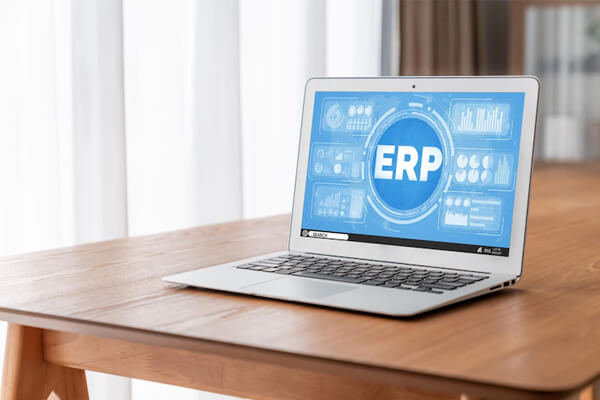 Limitations of MS Excel as a Business Tool
Besides ease of use, MS Excel offers advanced features such as macros for making complex calculations. However, it also has the following limitations:
1. Error-Prone
Since updated manually, MS Excel is prone to human errors. MS Excel software is not integrated with other solutions such as CRM or Accounting software. All the spreadsheet numbers and formulas must be entered by a human resource. This makes it highly prone to human errors.
2. Lack of Centralization
With MS Excel, various business functions or departments in the same organization use their spreadsheets. Thus, unlike ERP tools, Excel does not provide a single centralized "source of truth" that is accessible across business functions. Effectively, Excel spreadsheets store decentralized data, which needs to be collected and transferred manually to other users.
3. Outdated Data
Modern businesses rely on real-time or updated data to make crucial decisions. Excel spreadsheets typically contain outdated data, which cannot automatically update. This means that Excel cannot provide updated data for real-time business insights.
4. Lack of Collaboration
Collaboration among teams is a necessity in today's business environment. Multiple teams must be able to seamlessly access documents and collaborate. Excel spreadsheets can be emailed, shared, and uploaded to a cloud location. However, Excel files are handled as separate documents and have limited collaboration. For instance, many users cannot access and update the same spreadsheet at the same time.
These are just some Excel limitations that should help you consider switching to ERP. Next, let's discuss some advantages of using ERP vs. Excel.
Advantages of Moving from Excel to ERP
With an integrated ERP tool, organizations can easily track real-time information without any manual spreadsheets. They can automatically search for relevant data and share the data with other departments. Using customized dashboards, ERP tools provide organizations with complete visibility of their business processes.
Here are some advantages of ERP over Excel spreadsheets:
1. Centralized Data Storage
An ERP tool such as SAP Business One stores all its business data in a centralized location, which is accessible from user dashboards. Interested users can easily view the data on a single platform instead of having to switch between multiple Excel files.
2. Easier Access
Organizations can easily access their data on cloud-powered ERP solutions from any location and device. All that they need is an Internet-connected mobile phone, tablet, or desktop.
3. Integration of Business Processes
Organizations can utilize multiple business modules in ERP solutions, each of which is designed to fulfill specific business requirements. For example, the "Sales and Marketing" module and the "Finance and Accounting" module. Business modules are also integrated into the ERP system. Data between ERP modules are transferred automatically, thus minimizing human error.
4. Employee Productivity
Due to its smooth workflow, ERP systems can improve employee productivity and efficiency. The ERP workflow provides relevant information to organizational teams whenever they need the same to complete their task. ERP tools are also useful for effective project management involving multiple teams.
Also Read: ERP For Manufacturing: Importance, Features, and Benefits
When is the right time to switch from Excel to ERP tools? Let's discuss that next.
When should Organizations Switch from Excel to ERP?
Business tools such as MS Excel are perfect for organizations when they are small or just starting their operations. With its user-friendly interface and familiarity, Excel can manage basic business processes, reports, and data analysis. Over time, Excel does not offer business value due to its limited visibility and integration.
Here are some signs that indicate when you are ready to switch to an ERP solution:
Employees are spending more time collecting data instead of working on them for insights.
Business data is stored across multiple data sources.
Data is scattered or stored on individual devices or locations.
There is limited access to business data from connected or remote devices.
Enterprises need to access real-time information from any place or at any time.
Organizations are spending too much time correcting human errors in manual spreadsheets.
How do you go about switching from Excel to ERP? Let's check out the process next.
How can Organizations Switch from Excel to ERP?
Despite the multiple benefits, it is not easy for any organization to move from Excel to ERP. Organizations must amply prepare for the migration process. Here are the five steps you need to perform to move your data from Excel to ERP:
1. Evaluate your Existing Data Processes
Before moving from Excel to ERP, organizations must first evaluate their existing systems and processes. This includes re-evaluating:
How your data is collected
How the collected data is used
What data is going to be valuable?
2. Determine which Data will be Useful
In the next step, you must evaluate which data is going to be useful to your organization. This includes historical data and how often it is used. With this step, you can determine the list of Excel files that must be transferred to the ERP system. By only transferring the necessary files, you can optimize the data migration process and save valuable time.
3. Select between Mass Migration or Gradual Transition
Depending on your business needs, you need to choose if you want to move all your bulk data in one instance or move it gradually. Most companies prefer a gradual data transition. However, in many instances, you may require making a mass data migration. For example, when you need to access data in its entirety.
4. Choose the Right ERP Tool
The next step is to choose the ERP tool that is most suited to your business requirements. Determine the ERP functionalities that are most important to your organization. For example, SAP Business one can overcome ERP challenges such as migrating on-premises applications to the cloud.
Additional SAP B1 features include personalized dashboards and seamless integration with other applications.
Also Read: Personalized Dashboards with SAP Business One
5. Prepare your Employees for the Transition
Your employees may ask "why do we need ERP when we have Excel."
Organizations switching from Excel to ERP must prepare their employees and users for the transition. Through proper communication, your human resources must be involved in the entire data migration process. Train them on how to use the new ERP system and obtain their honest feedback. Through training and communication, you can prepare your workforce for the long run.
Conclusion
As a growing business enterprise, are you still relying on MS Excel for your daily tasks? If yes then it is time to switch to an ERP system such as SAP Business One. ERP solutions offer greater control, integration, and reliability as compared to the Excel tool.
As an SAP business partner, Praxis Info Solutions has implemented successful ERP projects for customers across industry domains. We pride ourselves on working closely with our customers and recommending solutions based on their business needs. Read our blog on how to solve common business problems using SAP Business One.
If you are looking for a technology partner to make the switch from Excel to ERP, Contact us today.
Business Intelligence & Analytics..
Perfect enabler for insightful decision making.

Call us on

+91-88050 25521/18/19