The enterprise resource planning (ERP) software system supports the automation of day-to-day processes throughout an organization. They have become key in transforming business operations and increasing efficiency across the board.
These solutions increase employees' productivity and help them work faster while having more visibility of the entire company workflow. ERP systems for small companies affect every business domain: manufacturing, resource, purchasing, inventory control, customer relations, distribution, sale and marketing.
While several companies have integrated ERP systems into their business, there is still a misconception that only large corporations and enterprises can afford these tools. Small companies often avoid ERP software, thinking it could be out of their budget. Many also consider ERP to have a steep learning curve.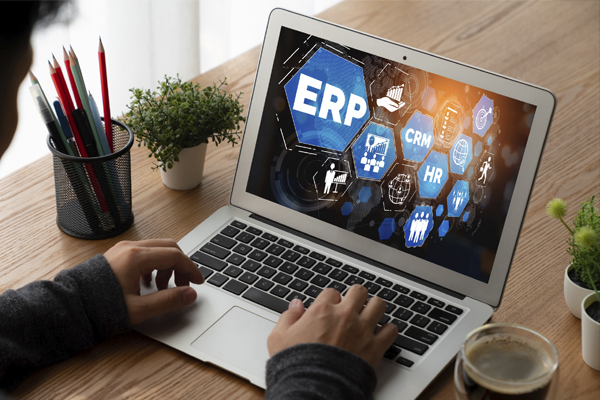 This article explores the challenges an ERP for small business enterprises can solve, why it benefits the business, and how you can choose one for your organization.
Challenges ERP Helps Solve
Growing companies generally implement ERP solutions to assuage any issues or pain points they are experiencing. While these challenges can differ from business to business, they can be mainly categorized into these 4 key areas:
Assorted Systems
Companies often use several software applications for handling different business processes. There is one application for raising tickets or issues, a different one for maintaining conversation, files are saved and shared through a separate application, and then there are the evergreen spreadsheets. While these applications make work easier, they raise the challenge of collating all the data collected.
Since none of the applications is connected, it becomes tricky to reconcile data, and the only option left is to spend hours reconciling this data manually. This leads to human-induced errors in data entry, a backlog of data collected, delays in making important decisions, and the need to hire an extra workforce for increased workloads.
Inefficient Processes
Repetitive tasks that need manual intervention are often a major pain point across organizational teams. They have to spend significant time executing these repetitive tasks and focus on their core responsibilities. As a result, it not only affects their satisfaction levels but also has a direct impact on their efficiency. Ineffective processes impact the company financially as well.
Lack of Visibility
Making business decisions becomes easier if there is more data to analyze—lack of data visibility forces managers to make decisions based on their gut and intuition. There are more efficient ways of basing decisions, and these can cause performance issues.
For example, if the marketing team needs more data about how their marketing strategies are performing, they run the risk of missing opportunities to find customers and close deals. If the accounting team needs more data about their financials, it is easier for them to generate accurate revenue reports, profitability margins, and more.
Absence of a Growth Support System
Business growth requires a robust support system of applications and software that can adapt to changing business dynamics. In a tangled mess of systems, transferring data between systems and finding inconsistencies in operations becomes almost impossible, significantly when the business is increasing and changing operations frequently.
Benefits of ERP for Small Business Enterprises
Centralized Data
One of the most significant advantages of a small business ERP system is the ability to combine data from different departments and bring them into a single centralized place. Without centralization, data is spread across platforms and is unstructured. Analyzing it and extracting any actionable insights becomes nearly impossible. It also leads to duplicate data stored, making the result inconsistent and not providing accurate reports.
To solve this issue, an ERP system standardizes the data, prevents duplication, and helps businesses make more informed decisions.
Compliance
Complying with regulations becomes difficult if your records are not up-to-date and accurate. ERP systems for small companies make finding any record or data easier, reducing the complications in adhering to compliance requirements. Any information an auditor might need is available at a single location, making you much more auditable.
Moreover, with customizable reports, businesses can track their compliance as well. The best ERP systems update themselves regularly to integrate any regulation changes and help remain compliant without any hassle.
Increases Productivity
ERP systems automate several mundane and repetitive tasks, which allow employees to work on other tasks and utilize their time more efficiently. It makes processes more straightforward so employees can spend less time searching for information and complete their tasks more quickly.
ERP systems allow employees to take on more strategic tasks to leverage their skills and expertise. With increased access to the business processes and goals, they can get their work done without pinballing around for data.
Enhanced Visibility
Enhancing the visibility of different business aspects is one of the most significant benefits of having an ERP system. It puts power into the hands of every employee and enables them to make better and more informed decisions much faster. Since different teams work together in a business, other teams need visibility into what everyone's doing.
For instance, the inventory team can look into the data collected by the purchasing team to decide whether to restock any inventory to avoid insufficient or excess stock.
Scalability
The scalability option of ERP systems allows businesses to stay flexible and leave the door open for any changes in the future. As the business grows and evolves, it can add new features as required. Getting a new ERP solution every time your business changes isn't an economical approach, and if you're rapidly evolving, it becomes even more difficult. ERP systems run on remote servers, so adding extra power and resources on demand is relatively easy.
Reduces Cost
Eliminating manual tasks like data entry, automating repetitive tasks, executing tasks faster, enhancing visibility, and other features help ERP systems in small businesses lower overall costs. It can even wipe out some of the operational and administrative expenses completely.
With the ability to monitor everything happening in the organization, business managers can quickly find areas for cost-cutting and identify sources incurring the highest expenses. ERP systems also help prevent rush orders, over-ordering, or over-production of items and manage resources that can help reduce your costs.
How to Choose an ERP System for Your Business?
Now that you know how beneficial an ERP system can be for your business, it's time to integrate one. However, many ERP solutions for small business enterprises are available in the market, so choosing the one that suits your business and meets your objectives is highly crucial.
Here are some factors you should consider while selecting an ERP system for your business.
Mobile-Friendly
Remote work has increased in the past couple of years. Employees are no longer constrained to work from their cubicles or homes; they work on the go from any device. Choose an ERP solution that can be accessed online so employees can open their workflows and access essential data whenever possible. The ability to tap into ERP dashboards at any time to extract information boosts the overall productivity of the employees and makes the business more efficient.
Testimonials and Recommendations
While selecting an ERP software, read testimonials from different organizations and review how the software helped them achieve their business objectives. Talk to companies that partnered with the ERP vendor and see how the system is integrated into their business and how it reacts in real life.
Ease of Use
The ERP system must be easy to use and integrate with the business. Focus on the user experience to ensure your employees can easily access any data point or information. There should be a manageable learning curve for employees as it can demotivate them from learning the platform. Go with a solution that functions smoothly and simply while fulfilling these needs efficiently.
Proven Track Record
Testimonials are a great way of understanding how user-friendly and beneficial an ERP system can be. But only some industries are the same; hence, the features of an ERP system that are invaluable for one company might be useless for another. Bet on vendors with a proven track record of working with organizations in your industry. This will ensure that the ERP vendor has experience in the industry and is familiar with your needs, requirements, and challenges.
System Cost
System cost is one of an ERP system's most significant deciding factors. It is essential to understand here that a business evolves and grows constantly. So, instead of focusing on the current scenario and choosing a solution that costs less upfront, business owners should think about the future and be prepared for any changes. Many cloud-based ERP solutions for small businesses have flexible pricing where you can keep costs down and only pay for services you need. And when the need arises, you can quickly scale the solution.
Getting Started
Are you interested in implementing a small business ERP solution?
Praxis Info Solutions, one of the leading end-to-end ERP solution providers is suitable for small businesses thanks to its scalability, flexibility, and modularity. Personalization is one of our key differentiators, and we strive to provide custom solutions based on our customer's unique business requirements.
FAQs
What is the best ERP for small business?
Payel Mukherjee
2023-10-23T11:07:32+05:30
There are plenty of free ERP tools available for small businesses. However, SAP Business One (SAP B1) offers the best value for money – and is designed specifically for the needs of small business enterprises.
How does ERP benefit small businesses financially?
Payel Mukherjee
2023-10-23T11:08:00+05:30
An ERP solution enables small businesses to reduce their administrative and operational costs. By automating business processes, it can also eliminate the cost of human errors arising from manual tasks.
How long does it typically take to implement an ERP system for a small business?
Payel Mukherjee
2023-10-23T11:08:29+05:30
For a small business, it typically takes around 3-6 months to implement an ERP system from scratch. However, ERP implementation time also depends on the complexity of the existing systems and processes.
Business Intelligence & Analytics..
Perfect enabler for insightful decision making. Call us on +91-88050 25521/18/19