Enterprise Resource Planning or ERP software runs all the core business processes within a company. Primarily, an ERP system integrates multiple processes including HR, finance, manufacturing, and procurement in an efficient manner. An ERP system is often referred to as the organization's "system of record."
Globally, SAP ERP is the leading ERP system with over 75,000 customers across 120 countries. Today, we will look at what is SAP ERP and why it is better than other ERP tools.
What is SAP ERP?
Developed by the SAP SE company, SAP is an ERP tool with over 140,000 installations around the globe. What does SAP stand for? It stands for Systems Applications and Products.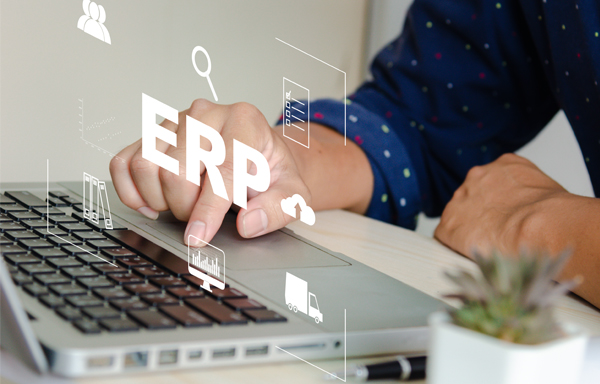 How does the SAP ERP System Work?
The SAP ERP system comprises multiple modules that are integrated into the function. Each of these SAP modules focuses on a particular business function such as:
Finance & Accounting
Human Resource Management
Production
Customer Relationship Management (CRM)
Materials Procurement
Thanks to SAP modules, organizations can choose to purchase selected modules that they need for their business operations. Additionally, the SAP ERP system works in an integrated environment where data from each module is accessible from other modules. This is because all ERP data is stored in a centralized database. Effectively, information can seamlessly flow between ERP modules without any manual or redundant data entries.
Also Read: Understanding ERP Modules and Their Business Benefits
Here are some examples of how ERP data flows between business functions:
A sales executive can check the availability of a product from the SAP system.
The product production team can be immediately notified if a product is out of stock.
The production team procures raw materials from the procurement module.
Once the final product is available, the sales team is intimated of its availability.
What is SAP ERP used for? Let's discuss this in the following section.
What is SAP ERP used for?
The usage of the SAP ERP tool is varied across business functions and industry domains. Here are some of the use cases of the SAP software:
1. Finance & Accounting
Regarded as the "backbone" of most ERP tools, SAP ERP is used to manage the financial ledger and automate various tasks. This module enables organizations to:
Track their Accounts Payables (AP) and Accounts Receivables (AR).
Close their accounting books at the end of the financial year.
Generate real-time accounting reports.
Comply with financial regulations and standards.
2. HR Management
In the HR business function, SAP ERP helps in capturing employee attendance and payroll management. With its human capital management (HCM) module, SAP customers can manage their entire hire-to-retire employee cycle. This can elevate the HR function with workforce analytics and better employee experience.
3. Procurement
Used mainly in the manufacturing and supply chain industry domain, organizations can easily procure the raw materials and services that they need to produce any finished product. Some of its main functionalities include:
Automated and centralized purchases
Requests for quotations from registered vendors
Contract creation and approvals
4. Sales
In the Sales function, the SAP ERP tool enables organizations to communicate with existing and prospective customers. Data-driven insights help sales executives target sales leads with the right promotion and upselling opportunities. SAP also includes order-to-cash functionality with order management, customer contracts, and billing.
Next, let us look at some of the main SAP ERP features and capabilities.
SAP ERP Features and Capabilities
The SAP Business suite is at the core of the SAP ERP offering and comprises the following capabilities:
SAP ECC or ERP Central Component is the on-premises ERP tool with the collection of various ERP modules.
SAP S/4 HANA is the in-memory ERP platform optimized for the future-ready SAP HANA database. This is set to replace SAP ECC in the coming years.
SAP S/4 HANA Cloud is the cloud or SaaS version of SAP S/4 HANA that provides HANA capabilities on a subscription-based model.
SAP Business One or SAP B1 is a business management tool that is designed for small-to-medium businesses. This tool can operate both on the cloud and on-premises.
Next, let us look at some of the benefits or advantages of SAP ERP systems.
Advantages of SAP ERP
SAP ERP offers its customers the benefit of a centralized system of data and information—where business data can be stored at a single location and shared with other business functions. This eliminates data duplication and redundancy.
Here are some of the major benefits of the SAP ERP tool:
Real-time sharing of information across departments. Thus, it eliminates data silos.
Business process improvement and control.
Improved productivity, production costs, and reduced overheads in manufacturing facilities.
Improved customer interaction and service.
Increased business agility and flexibility.
Improved employee efficiency and productivity.
Efficient management of business assets including the capital, raw materials, and infrastructure.
Tracking of customer demands, thus enabling better inventory management and avoiding wastage.
Compliance with industry regulations.
What is the difference between other ERP tools and SAP?
SAP ERP leverages intelligent technologies such as Artificial Intelligence, Machine Learning, and advanced analytics to transform mission-critical applications. With intelligent automation, SAP ERP can transform business processes with real-time processing speeds and a simplified data model that is easy to understand.
With these advanced capabilities, SAP ERP can bring major improvements in the following areas of an organization:
Operations
Business management
IT Infrastructure
Business strategies
SAP ERP can effectively enable the business enterprise to respond quickly to market changes. Some of the other SAP capabilities include:
Continuous innovations and updates on its cloud platform
Faster deployment on any user device
Flexibility and scalability
Next, let us discuss the future of the SAP ERP solution.
Future of SAP ERP
In 2022, SAP is focused on migrating its customers to the cloud and the SAP S/4 HANA system from SAP ECC. This move will enable this ERP solution provider to deliver innovative solutions powered by technologies such as AI, Machine Learning, and IoT.
Going forward, SAP's vision is to convert its customers into "intelligent" enterprises that can leverage its innovative capabilities. To be more successful, SAP is trying to deliver a "human-centric" experience that is environmentally sustainable in the long run.
At the heart of the intelligent ERP, the SAP S/4 HANA will be the central component enabling companies to adapt and scale with the needed business flexibility and agility. Among other prospects, SAP can be offering new business models based on the subscription billing model.
Conclusion
In summary, SAP ERP solutions are not just designed for large corporations. It can also work for small-to-medium enterprises that want to grow their business to the next level. To implement this popular ERP solution for your business, you need to partner with an ERP solution provider like Praxis Infosolutions.
As an authorized SAP partner, we bring years of technical expertise and project experience for the benefit of our customers. With our SAP business one ERP solution, you can adopt an ERP solution that is quick to implement and cost-effective at the same time. Here is a blog that talks about how to solve common business problems using SAP Business One.
Do you want to leverage the benefits of SAP ERP? We can help you. Contact us today.
Business Intelligence & Analytics..
Perfect enabler for insightful decision making.

Call us on

+91-8805025518/19