Understanding ERP Modules and Their Business Benefits
To grow or even survive in the post-pandemic market, business enterprises are increasingly dependent on their business data. No longer can data exist in isolated "silos" in business functions. Hence, more and more organisations are turning to enterprise resource planning or ERP to collect and share business data through a centralized database.
A Market Research Engine report states that the global ERP market continues to grow and will exceed $49.5 billion by 2024. Apart from storing business data, ERP solutions encourage collaboration between different business functions and departments. This is done with the aid of ERP modules or business modules where each module represents a business function within the organization.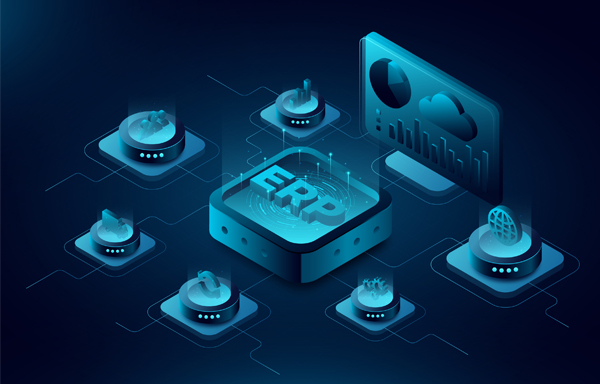 What are business modules in ERP and how do they benefit? Let's discuss.
What are Business Modules in the ERP Package?
Business modules in ERP are designed to address specific business requirements. For example, the sales and marketing module is designed to improve customer relationships and elevate the customer experience.
Each business module is capable of retrieving data from its business area and storing it in a centralized database. This enables business executives to pull out this data and make accurate business decisions.
What are the various ERP modules and how do they benefit the enterprise? Let's discuss this in the next section.
Business Modules in ERP
Primarily, there are many business modules in ERP software which represent each business function. Here is a look at the most popular ERP modules used by most organizations:
1. Finance & Accounting Module
The finance and accounting module is one of the essential modules in any ERP tool. As the name suggests, this module is used to handle the finances and accounting functions of a business. Some of the main features of this module include Account payables and receivables, general ledger, balance sheets, business expenditures, and payment receipts.
How does the finance and accounting ERP module benefit the enterprise? Here are a few of its benefits:
● Automates tasks like billing, account reconciliation, and vendor payments.
● Prepare financial reports including profit and loss and cash flow statements.
● Provides visibility of the company finances to other business departments like sales and human resources.
● Updates real-time financial data automatically in response to a new sale or any other transaction.
Also Read: How SAP Business One Helps in Improving Sales and Marketing?
2. Human Resource Management or HRM Module
The HRM module in ERP is used to primarily store employee data and enable the onboarding and training of the existing workforce. Employee data stored in the HRM module include the employee's personal information, designation, payroll data, working hours, and leave-related data. Additional features of the HR module include talent management, payroll management, and workforce management.
How does the HRM ERP module benefit the enterprise? Here are some of its benefits:
● Collects and integrates employee data from multiple departments.
● Prevents duplication or multiple entries of the same data records.
● Provides a smooth and seamless experience for every new hire.
● Provides information about employee leaves or vacations to the payroll module.
● Automates tasks like applying for leave and leave approval, thus saving time and effort.
3. Customer Relationship Management or CRM Module
Also referred to as the Sales and Marketing ERP module, the CRM module is designed to store all customer information including sales leads, contact details, and quotations. The marketing module in CRM is used to send business emails to prospects and to run marketing campaigns.
How does the CRM ERP module benefit the enterprise? Here are some of its benefits:
● Manage the entire customer lifecycle right from the initial contact to post-sale customer support.
● Stores all customer information including inquiries, purchase history, and communications.
● Provide a quick response to any customer service calls.
● Automate sales-related operations like populating purchase orders and sending email notifications.
● Increase sales and business revenue from the existing customer base.
4. Inventory Management
Inventory management is among the main modules for the manufacturing industry. With this ERP module, manufacturers can now obtain real-time visibility in their inventories or stock levels. Further, manufacturers can manage multiple areas of their business including logistics, operations, and supply chains.
Some of the main features of the inventory module include just-in-time inventory, goods receipts, inventory audits, and demand forecasting.
How does inventory management benefit the enterprise? Here are some of its benefits:
● Maximizes productivity with accurate invoicing and order management.
● Fulfill customer orders with accurate stock levels.
● Boosts profit margins by managing inventory costs.
● Improve customer satisfaction with timely deliveries.
● Provides accurate valuation of incoming and outgoing inventory.
5. Material Requirement Planning (MRP)
In the digital age, manufacturing ERP is not complete without the Material Requirement Planning or MRP module. Essentially, the MRP module is used to determine the materials and components required for manufacturing any product. Primarily, this module operates by taking the inventory of the available materials, identifying what more is needed, and then scheduling their purchase or production.
How does the MRP module benefit the enterprise? Here are a few of its benefits:
● Ensures that the right inventory is available for any production schedule.
● Improves the efficiency and profitability of any manufacturing process.
● Improves product quality and response to increased market demand.
● Prevents production delays that could lead to loss of business.
● Improves the working efficiency and productivity of shop floor workers.
6. Supply Chain Management (SCM)
For companies dependent on supply chains, supply chain management (SCM) is a complex and time-consuming business process. Typically, SCM involves all processes used to transform raw materials into final products. Supply chains involve multiple stakeholders including manufacturers, suppliers, vendors, and customers.
The SCM module has a host of features including inventory management, goods transportation and logistics, supplier and material master, and materials transfer.
How does the SCM module benefit the enterprise? Here are a few of its benefits:
● Ensures the availability of inventory at the right time and right quantity.
● Improves the flow of information across the entire supply chain.
● Optimizes supply chain costs.
● Optimizes the physical movement of goods and materials.
● Plans and manages future demands accurately.
How to Choose the Right ERP Tool for your Business?
With multiple types of ERP modules, it is challenging for any business enterprise to select the right ERP tool that can work to their benefit. Today's business owners have a variety of ERP solutions to choose from in the market.
If you are looking to integrate your entire business ecosystem, then the SAP ERP tool is the best choice. What are the primary business benefits of an ERP system like SAP? Here are some of them:
● Multiple Functional Modules
SAP ERP comprises multiple ERP business modules for functions like sales & marketing, financial accounting, manufacturing , supply chains, and warehouse management. SAP ERP collects and stores data from different functional areas, thus offering complete visibility into daily operations.
● Cost Efficiency
Through real-time and accurate data, SAP ERP can reduce operational and administrative costs for any business. For instance, SAP effectively eliminates production delays, which can add up to business costs. SAP ERP can also be deployed on cloud premises, which can further reduce the cost of building and maintaining on-premises infrastructure.
● Improved Decision-Making
By integrating the business ecosystem, the SAP ERP tool provides real-time access to business data and insights, which can improve the decision-making process. Further, by storing all business information in a single centralized database, SAP ERP eliminates data duplication and improves the overall data quality.
Conclusion
As discussed, an ERP tool can help streamline business in any industry domain. As a business owner, you can choose the ERP modules that are right for your business growth. We have looked at many ERP modules in this article, and how they can benefit your business.
Also Read: Why Your Business Needs an ERP and How SAP Business One can Help
Among the leading ERP companies, the SAP ERP solution is suited to work with large corporations as well as small to medium-sized businesses. To help you leverage its immense capabilities, you can partner with an ERP solution provider such as Praxis Info Solutions. Praxis has years of industry experience implementing various SAP projects for its global clientele.
Also Read: Challenges SMEs Face During ERP Implementation
Which are the ERP modules that can transform your business? We can help you answer this question. Contact us today with your contact details.