As a business owner, you can obtain a better understanding of your business operations through dashboards. With the use of drag-and-drop visual elements, business users can easily interpret and manipulate data to make informed decisions.
SAP Business One or SAP B1 dashboards are designed for business functions such as marketing/sales, finance, and operations. Additionally, you can create your personalized dashboards using the various widgets, and without any IT assistance.
Also Read: SAP Business One—The Backbone of Your Company's IT
The SAP B1 dashboard can also be customized to your business or industry requirements. Are you wondering what the SAP B1 dashboard is and what are the benefits of using dashboards in SAP Business One? Let's discuss this in the following sections: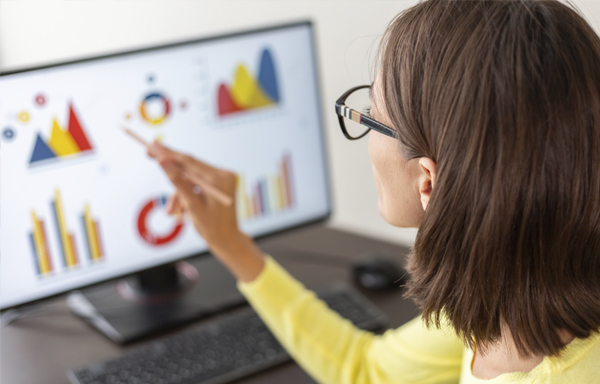 What are SAP B1 Dashboards?
SAP B1 dashboards are a user-friendly and highly intuitive component of the SAP Business One suite. Using data visualization, these dashboards provide quick access to the business data of your choice. Business users can easily create and customize their dashboards based on their job roles.
Besides customized dashboards, SAP Business One provides a host of predefined dashboards including:
Customer receivables
Service call status
Sales performance and analysis
Purchase quotations
Cash flow forecasts
Next, let us look at some of its benefits.
Benefits of SAP B1 Dashboards
SAP B1 dashboards help users perform a variety of tasks. Some of them are:
Understand the latest data-driven trends and patterns
Integrate live and real-time data into visual dashboards
Monitor their KPIs and business metrics on dashboards
Anticipate or predict customer behavior
Generate and share a variety of SAP dashboard reports
Among its primary benefits, personalized dashboards improve the business decision-making process by providing executives direct and real-time access to business data. Additionally, dashboards in SAP Business One are easy to create with a few clicks.
Personalized dashboards also empower individual employees by "putting data into their hands." This enables them to build their productivity and efficiency as they have the necessary tools to create their dashboards.
Also Read: Why is it Critical to Choose the Right Project Team of Employees for SAP Business One Implementation?
"How do I create a dashboard in SAP B1?" Let us answer this question now.
How to Create an SAP B1 Dashboard
As a business user, you can use the "Pervasive Analytics Designer" tool in SAP Business One to access and visualize your data using customized dashboards. You can use this tool to create an SAP B1 dashboard. Here's how:
Create a new dashboard by clicking "New Dashboard"
Using the Dashboard designer tool, select the data source that you plan to use in your new dashboard. The data source can be a query or a calculation
From the "Basic Settings," drag and drop the measures that you want to monitor to the "Target Measures" section. Similarly, drag the dimensions to the "Target Dimensions" section. For instance, a measure can be "gross profit" while the dimension can be the financial year for which you want to view the gross profit.
Use the "Legend" section to configure the above parameters for a selected industry or business partner. For this example, the dashboard will show a comparison of the gross profit for the selected year for individual business partners or industries.
You can also change the chart type from the "Chart Type" drop-down list. Additionally, you can change the data cluster type using the "Strategy Type" drop-down list. Available options include Forecast, ABC Analysis, and K-Means Clustering. Once you are done with the changes, you can save your dashboard.
How Do I Open the Dashboard in SAP B1?
Once you have created the dashboard, you need to add it to your dashboard "cockpit" that displays all the dashboards that you have created or customized. After adding, your personalized dashboard is now displayed and is ready to be used.
Conclusion
Personalized dashboards in the SAP B1 ERP tool allow business users to leverage the benefits of data visualization. With a few easy steps, they can create their dashboards and avail real-time access to business data. Additionally, they don't need to wait for IT assistance to integrate other ERP modules and generate a variety of SAP B1 dashboard reports.
Praxis Info Solutions has been successfully implementing SAP Business One projects & has developed a large client base. Our solutions are designed to empower business users with the capability of working with day-to-day SAP data. Here is a blog that presents how Praxis is enabling SMEs to achieve their business goals using SAP B1.
Are you looking for more information on how to create personalized dashboards using SAP B1? We can assist you. Contact us today with your business details.
Business Intelligence & Analytics..
Perfect enabler for insightful decision making.

Call us on

+91-88050 25521/18/19