In the age of digital technologies, small businesses are now transitioning from manual paper-based systems and Excel spreadsheets toward Enterprise Resource Planning (ERP). Is ERP good for small business enterprises? Yes, an ERP for a small manufacturing business can directly reduce operational costs and improve efficiency.
A report by Allied Market Research revealed that the global ERP market is projected to touch $78.4 billion by 2026 from $35.81 billion in 2018, growing at a healthy CAGR of 10.2%. According to an Aberdeen Group report, 65% of small businesses are availing of ERP consultation services. For small-to-medium enterprises or SMEs, what are the benefits of ERP? Let us discuss them first.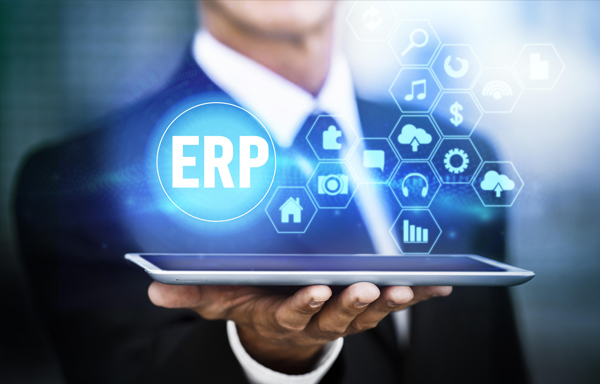 Also Read: 10 Reasons Why SAP Business One is the Right Solution for SMEs
What are the Benefits of ERP for SMEs?
The popular perception is that an ERP solution such as SAP is designed only for large enterprises or multinationals. While it is true that SAP solutions are used by most Fortune 500 companies, it is equally true that 80% of the SAP clients are SMEs across industry domains.
Can small businesses use an ERP like SAP? Here are some of the main benefits of ERP solutions for small business enterprises:
1. Reduced Costs
With an ERP solution, SMEs can automate and streamline their business processes, thus reducing the dependency on manual processes. As employees or workers have lesser manual tasks to perform, they can focus on innovative tasks that are more profitable.
Further, operational managers now have access to real-time business data and insights that can improve their decision-making and overall efficiency. In the long run, this helps in reducing operational costs.
2. Integrated Business Processes
ERP solutions can integrate multiple business processes across all functions including sales, procurement, finance, and HR. This standardizes the business data and makes it accessible across business functions. Small business owners now have a holistic view of their entire business and can view crucial metrics such as daily sales, customer orders, and production data which were previously available only through Excel spreadsheets.
3. Improved Customer Relationship
Be it B2B or B2C, small companies can now improve customer relationships by providing exceptional services enabled by ERP tools. By integrating various business processes—for example, sales with product deliveries—product companies can fulfill customer orders on time, thus creating a good customer impression of the brand.
Also Read: 10 Questions to Ask While Evaluating Business Intelligence Tools
Besides, ERP solutions improve employee productivity, enabling them to improve their customer services.
4. Accurate Supply and Demand Forecasts
ERP tools can accurately forecast the market demand for products and ensure that small product companies are prepared to supply the products on time. Sales forecasts can be estimated based on data insights about the latest buying patterns, consumer behavior, and inventory.
Now that you know the benefits of implementing ERP, what is the best ERP for small businesses? Let's discuss that next.
Which is the Best ERP Tool for Small Businesses?
Small business owners can choose from a variety of free or cost-effective ERP solutions such as ERPNext, Odoo, or Dolibarr, which are designed for small businesses. However, the best ERP tool would be SAP Business One (or SAP B1), which is among the leading ERP solutions for SMEs.
Here are 4 Reasons Why SAP B1 is the Best Tool:
1. SAP B1 is high on both flexibility and functionality with a wide array of built-in features. SAP B1 can also be customized to individual companies and is not a one-size-fits-all solution.
2. With years of industry presence, SAP solutions have a strong ecosystem that includes the SAP company, implementation partners, and solution developers.
Also Read: Why Praxis is the Right Partner for Implementing SAP Business One?
3. SAP B1 is designed for small businesses to increase their customer base and is not a scaled-down version of SAP for large enterprises.
4. SAP B1 can be deployed in the cloud or on-premises, whichever is more suited for small businesses.
Here are 10 reasons why SAP Business One is the right ERP solution for SMEs.
How Praxis Info Solutions is Helping SMEs Achieve their Business Goals?
Among the leading SAP Business One ERP solutions providers in Pune, Praxis Info Solutions has enabled many companies in the SME sector to leverage the capabilities of SAP B1. As an award-winning SAP partner, Praxis has a successful and proven track record in working with SMEs from different verticals including Manufacturing, Retail, FMCG, and Distribution.
Here are a few reasons why Praxis Info Solutions has been successful in helping SMEs achieve their business goals:
Every SAP implementation project was completed on time and within the decided budget.
Customers were able to go live immediately and successfully following the project completion.
Customers are aware of the clear business benefits they can leverage after adopting SAP Business One.
Depending on the size and complexity, SAP implementation projects are completed in one to four months.
At Praxis, we understand the importance of completing SAP projects on time and within budget. Praxis works with individual SMEs and ensures timely completion by:
Prioritizing their business needs; means focusing on fulfilling their essential needs.
Defining a clear project scope with a phase-wise implementation plan if required.
Designing a simple and easy-to-use ERP solution that can increase user adoption.
Assigning the right project team – with years of SAP implementation experience and who are correctly aligned with the client's project goals and objectives.
Creating efficient teamwork by working closely with customer executives and understanding their business needs.
As an ERP solution provider, what makes Praxis the best for small businesses? Here are some of our successful customer stories:
If you are running a small business, then this is the right time to upgrade to SAP Business One ERP solution and take your business to the next level. We can help you achieve your business goals. Write to marketing@praxisinfosolutions.com to know how.
Business Intelligence & Analytics.. Perfect enabler for insightful decision making.

Call us on

+91-88050 25521/18/19