SAP Business One—The Backbone of Your Company's IT
Today, the backbone of any organization is its robust operations using advanced technology systems and business applications that drive its growth and revenues. Over the years, SAP applications in the IT or information technology industry have played a crucial role in automating business processes within an organization.
To this effect, what is the purpose of SAP Business One or SAP B1 in any business enterprise? Can SAP B1 be the backbone of your company's IT function? Let's explore.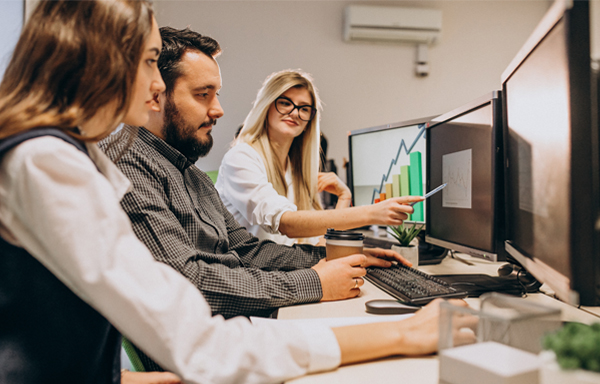 What is the purpose of SAP Business One?
From a business standpoint, SAP Business One offers a single and cost-effective solution for managing your entire business operations. SAP B1 touches every aspect of a small business enterprise including financial accounting, purchase, inventory management, sales/ marketing, and customer relationship.
Designed for small-to-medium-sized businesses, SAP B1 is a complete ERP solution that can address business challenges such as:
Migrating applications from on-premises to the cloud platform, thus saving costs.
Boosting customer satisfaction and their brand experience, thus ensuring higher returns.
Automating crucial business processes, thus eliminating human errors caused by manual processes.
Securing confidential data including customer records from hackers, thus preventing 'costly' data breaches and complying with data privacy regulations.
Managing your business operations proactively by monitoring KPIs in place of reacting with corrective measures.
Also Read: How to Migrate Data from Legacy systems to SAP
Is SAP B1 an IT or business tool? SAP B1 can be used in IT or technology companies and business applications. Next, let us see what is SAP B1 used for in an IT company.
Role of SAP Business One in IT companies
As a complete ERP solution, SAP B1 is used both in IT or software development companies or within the IT department of a corporate. Here are some of the uses of SAP B1 in the IT field:
1. Data Centralization
By implementing an SAP B1 solution, IT companies or IT departments can store data from different processes and functions at a single centralized location. This makes it easy to share real-time data across multiple business functions and applications. For example, the sales function can now access the latest data from the manufacturing or production function.
The benefit of the SAP-integrated IT solution is that IT companies can reduce manual errors and facilitate improved communication across multiple business functions.
2. Data Security
With SAP Business One, business IT departments can enhance data security and protection with its integration with AWS Cloud. The SAP B1 and AWS Cloud infrastructure ensure that business data is safe from online threats and system malfunctions. Here are some data security features enabled by SAP B1:
Data encryption
Frequent data backups
Complete visibility and control
Regulatory compliance for data
3. Accessibility
SAP B1 can be deployed on-premise and in the cloud, thus, making it extremely flexible and accessible. In addition, SAP applications are supported on popular mobile platforms and multiple operating systems including Windows, Linux, and macOS.
This enables SAP B1 applications to be accessed from any remote location and on a variety of user devices.
4. Improved Speed and Performance
SAP Business One can improve the speed and performance of application development for IT companies. By easily connecting with multiple data sources and cloud services, SAP B1 improves business agility with real-time data access. This means your business applications are always running on the latest technology tool and has low maintenance costs.
Here are some ways a cloud-powered SAP B1 system improves speed:
Real-time access to application data and cloud services
Remote infrastructure optimized for fast performance
Updated technology tools with the latest features
Faster application development and deployment
5. Project Management
Project managers in IT or software development companies can now use a variety of SAP tools to manage their application development projects. SAP tools are packed with multiple features or modules including the following:
Project Initiation Module – used for the initial setup and launch of the project.
Project Planning Module – used for planning of costs, materials, resources, and schedule to be used in the project.
Project Execution Module – used for project implementation and monitoring with elements like timesheets, milestones, and billing.
Project Closure Module – used for closing the project after completion and delivery.
Next, let us look at some of the benefits of deploying SAP Business One that makes it the backbone of any IT company.
Benefits of SAP Business One in IT companies
Be it for IT companies or IT functions within business enterprises, SAP B1 can benefit these organizations in many ways including:
Managing operational costs by leveraging on-premises IT hardware and existing infrastructure.
Reducing the overall cost of ownership of SAP systems in the long run.
Cloud-based SAP deployments provide access to the latest updates and functionalities without having to depend on the in-house IT team.
Improves business decision-making with integrated data analytics.
Provides the ability to scale up the SAP system based on business growth and demands.
Also Read: SAP Business One On-Cloud vs. On-Premise: Which to Choose and Why?
Conclusion
With the right planning and implementation, SAP Business One can become the backbone of any IT company or IT department within a business enterprise. As discussed in this article, the SAP B1 system helps in integrating various business functions and provides a centralized node for sharing business data and insights across the organization.
If you are into IT consultancy or software development, SAP B1 can be a valuable asset in growing your business. At Praxis Info Solutions, we have developed and deployed a variety of customized SAP solutions to meet our customer demands. We have special expertise in implementing complex solutions for our technology clients.
Looking for a technology partner that can elevate your IT infrastructure to the next level? We can help you out. Contact us today with all your business queries.
Business Intelligence & Analytics.. Perfect enabler for insightful decision making.

Call us on

+91-88050 25521/18/19