How to Improve Customer Experience with Zoho CRM?
How to Improve Customer Experience with Zoho CRM?

Image source: Freepik
In today's business world, a positive customer experience (CX) is crucial for the sustained growth of any business enterprise. It contributes towards promoting brand loyalty and customer retention. According to Forbes, 74% of consumers are likely to buy products based on CX, while 81% of companies rate CX as the key differentiating factor from their competitors.
On its part, customer relationship management or CRM solutions enable businesses to gain a complete understanding of their customers and how they perceive the brand. Effective CRM can improve customer experience by understanding and analyzing customer sentiment based on their brand interaction.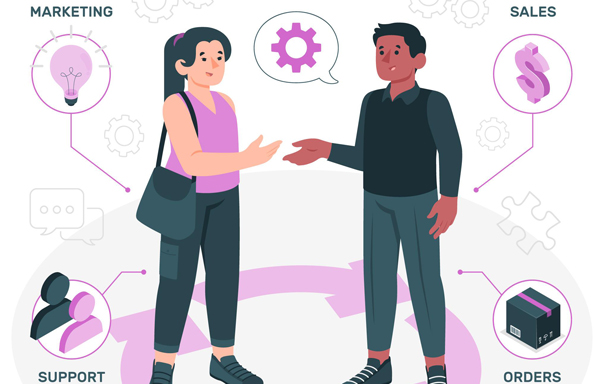 Image source: Freepik
With its unified CX platform, the Zoho CRM tool is packed with a wide range of customer-centric functionalities that can transform the customer experience. Keep reading to know how business enterprises are innovating customer experience with the Zoho CRM tool.
Also Read: Zoho CRM – World-class Features at Lowest Cost
Zoho CRM Features that can Transform CX
As a CRM tool, Zoho CRM takes care of every stage of the customer journey right from acquisition to retention.
Here are a few functionalities that enable enterprises to design an improved customer experience strategy with Zoho CRM:
1. Multi-Channel Marketing
With Zoho CRM, business brands can now execute meaningful multi-channel marketing that can drive customer acquisition. Personalized marketing campaigns can improve quality lead generation and conversions by delivering the right message at the right time.
Further, the RFM model in Zoho CRM leverages customer data to create targeted marketing campaigns that can improve customer engagement and sales conversions.
2. High-Quality Customer Service
The Zoho CRM tool offers the right combination of both high and low-touch customer service using different channels. For example, customers can now avail of a self-servicing brand experience with an extensive knowledge base, chatbot interactions, and a growing online community of satisfied customers.
3. Customer Analytics
With its "customer analytics" feature, business users now have real-time access to the CRM dashboard displaying the latest sales deals and sales pipeline. Using interactive dashboards, sales and marketing executives can customize customer dashboards based on their selected criteria.
Additionally, each stage of the customer pipeline can be customized based on your business requirements.
4. Exceptional CX
By integrating front-end and back-end operations, Zoho CRM delivers a consistent customer experience. For example, all customer data from various business functions can be unified to provide a centralized customer view. Using prebuilt connectors and APIs, multiple applications can be integrated across the technology stack.
Finally, Zoho CX functionalities can also work with web and mobile applications depending on the business needs.
5. Sales Predictions
Using the Zoho CRM prediction builder tool, business executives can now improve their sales-related decisions based on the predictions. With Zoho CRM, accurate AI-powered predictions and recommendations can be created across customer modules including sales, marketing, and service. This feature can help in improving the customer's lifetime value with AI-powered product recommendations.
Also Read: Why Choose Praxis Info Solutions as the Zoho CRM Partner?
Conclusion
To succeed in a competitive business environment, business enterprises must continue to focus on a positive brand experience for their customer base. The Zoho CRM Customer Experience platform is designed to provide a unified brand experience at every stage of your customer journey.
Also Read: Slowing Economy – Right time to invest in Enterprise Solutions?
By adopting the user-friendly Zoho CRM tool in your business operations, you can leverage its CX-centric functionalities to build a long-lasting relationship with your business customers.
As a Zoho implementation partner, Praxis Info Solutions has enabled its customers to get started on Zoho CRM and implement the complete CRM solution in a short time for maximum benefit. Here is a look at how we can help your scale your business growth using Zoho CRM. Learn more about how Zoho CRM can help your business? Book a product demo today.