The Fast-Moving Consumer Goods (FMCG) industry needs to maintain a high volume of both sales and production to thrive in today's competitive market. Additionally, the companies must operate at low-to-medium margins while facing the risk of global supply chain disruptions.
Today, Enterprise Resource Planning or ERP for FMCG industry is gradually replacing manual or repetitive processes to help companies counter common challenges. A complete ERP system such as SAP can seamlessly automate FMCG-specific processes such as inventory, supply chain, and customer management.
As FMCG companies recover from the aftershocks of the 2020 pandemic, they can no longer rely on inefficient manual processes that can cause human errors. In this blog post, we discuss how you can maximize the benefits of a FMCG ERP solution.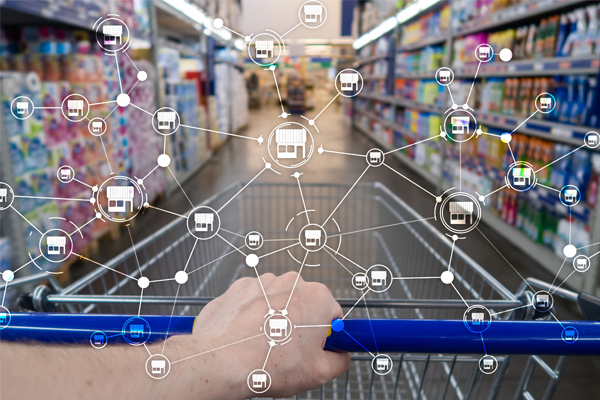 What is ERP for FMCG Companies?
ERP solutions are imperative for a fast-moving industry like the FMCG industry to expand business operations and automate its various processes. Among the prominent use cases, ERP solutions enable FMCG companies to adapt quickly to changing consumer demands and achieve customer satisfaction.
Also Read: How SAP Business One Solutions Improve the B2B Experience for Your Customers
Even more, FMCG ERP solutions can streamline their inventory and supply chains, thus avoiding substantial losses in the event of any external disruption. To boost effective decision-making, ERP modules provide shared access to real-time data across business functions.
Here are some of the capabilities of the ERP for FMCG Sector that are transforming businesses:
Accurate demand forecasting or estimating the time of the year when it is best to promote any FMCG product.
Supply forecasting or managing an efficient supply chain to determine the best time for procuring raw materials.
Integration of business operations across geographical locations allows FMCG companies to manage their global business operations using a single ERP system.
Seamless order management integrates all order-related processes from procurement, assembling, invoicing, and shipping.
How can any company make the most out of its FMCG ERP solution? Let's discuss that next.
How to Make the Most of Your ERP for FMCG Solution
There is little doubt about the business value ERP solutions offer FMCG companies. For instance, the SAP ERP solution can improve the performance and efficiency of any FMCG manufacturer while reducing operational costs.
Here are five ways in which they can leverage the most benefits from their ERP investment:
1. Optimize Inventory Management
In today's economic situation, inventory management is core to the success of any FMCG company. A streamlined inventory system ensures companies can meet growing customer demands without exceeding inventory-related expenses.
You can optimize your inventory management using the best ERP for FMCG solutions. ERP tools can store and provide real-time information about the inventory or stock levels, details of individual stock items, and when they need restocking.
Additionally, you can configure your FMCG ERP solution to adjust dynamically to changing customer behaviors.
2. Improve Customer Management
In the B2C industry, consumers love personalized offerings catering to their needs. An ERP system helps improve customer management by identifying bottlenecks for an optimum customer experience.
By collecting and analyzing customer data from various sources, an ERP tool can help identify patterns or trends in customer behavior. Through its customer relationship management (CRM) module, ERP tools can facilitate collaboration among various FMCG functions. This helps in improving business strategies for order management and production.
3. Enhance the Efficiency of Supply Chains
An optimized supply chain is crucial for smooth production for any FMCG company. ERP for FMCG solutions improve supply chain management with real-time tracing and tracking of required materials. You can also use the ERP supply chain module to improve communication among global suppliers and partners. This ensures the on-time procurement of raw materials and timely delivery.
ERP-based supply chains are also useful for eliminating any waste of raw materials and improving the workflow from start to finish.
4. Implement Robust Warehouse Management
A robust warehouse management system is essential for any FMCG company to deliver enhanced agility across all business departments. You can use your ERP solution to streamline warehouse operations by creating a customized process flow.
ERP for FMCG systems can align the following warehouse-specific processes to perform without any disruptions:
The picking process uses an ERP-enabled barcode system to pick up the correct warehouse items and order.
The Packing process utilizes ERP-based label generation to label goods with the necessary information automatically.
Shipping process is also optimized, along with transport management, to select the proper shipping method at the right cost.
5. Improve Sales
FMCG companies offer customer value through low-cost items purchased frequently by their consumers. A high sales volume is crucial to the market success of any brand. An ERP for FMCG sector can estimate future product demand through detailed market analysis and sales reports.
ERP sales module enables FMCG companies to optimize their production process for immediate demands and identify new market opportunities to increase sales revenues. With quality testing, FMCG brands can also increase sales by delivering high volumes of high-quality products to the market.
Next, let's discuss why SAP is the best ERP for FMCG sector.
Why is SAP ERP the Best Solution for FMCG?
With growing competition, the FMCG industry is facing a host of challenges, such as changing customer behavior, lack of operational visibility, and traditional sales practices. Using the SAP ERP for FMCG, companies can overcome these challenges and boost productivity by:
Generating better insights using SAP's analytical functionalities.
Understanding customer expectations and redefining their marketing strategies.
Boosting their predictive capabilities using real-time data.
Improving their decision-making process.
With an ERP solution such as SAP Business One or SAP B1, FMCG companies can integrate various functions like supply chain management, accounting and financials, production planning, and materials procurement. For instance, SAP B1 can help in managing your financials, including your sales invoices, payments, accounting, and applicable taxes.
On the production side, SAP B1 helps create and manage Bills of Materials (BOMs) and defines the optimum product price. For efficient supply chain management, SAP B1 integrates processes, including the materials flow, procurement, warehouse & inventory management, and production.
Also Read: SAP Business One Helps In Implementing Best Practices Of Inventory Management
Apart from improving financial operations, the SAP ERP solution for FMCG facilitates smoother communication and information sharing among employees and managers, even when they are located across geographical locations.
Conclusion
ERP solutions transform business environments across industry domains, and FMCG is no exception. To stay relevant and competitive, FMCG must invest in ERP solutions like SAP Business One, which is ideally suited for small and growing companies.
On their own, FMCG companies often fail to maximize their returns from investing in an SAP ERP solution. This is why they should consider partnering with an ERP solution provider like Praxis Info Solutions.
At Praxis, we have developed expertise in implementing SAP B1 solutions for a variety of industries, including manufacturing, retail, and FMCG. Our team of ERP experts can work closely with you to understand your business environment and how ERP can solve business challenges.
We can help you leverage your investment in the SAP ERP solution. Contact us today with your business requirements.
FAQs
What is ERP in the FMCG industry?
Payel Mukherjee
2023-10-23T11:02:12+05:30
An ERP solution in the FMCG industry is designed to integrate and streamline their business units, including finance, CRM, inventory, HR, and financial accounting. Using these ERP modules, FMCG companies can improve their overall profits.
Is ERP for FMCG important?
Payel Mukherjee
2023-10-23T11:02:42+05:30
Using ERP solutions, FMCG companies can accurately predict future demand for their products. ERP systems can also optimize their production process (based on prevailing demands).
How is CRM used in the FMCG industry?
Payel Mukherjee
2023-10-23T11:03:13+05:30
CRM solutions in the FMCG industry are used to automate all sales and marketing activities using a single system. This enables them to handle high sales volumes – and resolve any bottlenecks in the overall sales process.
Business Intelligence & Analytics..
Perfect enabler for insightful decision making. Call us on +91-88050 25521/18/19