In any industry, finance and accounting are essential functions for business enterprises. Efficient financial management and accounting are necessary to achieve and sustain business growth for any enterprise.
Basic financial and accounting tools are sufficient during the initiation phase of an enterprise. However, as the enterprise grows its business to the next level, these tools cannot handle complex or large-scale financial and accounting processes. This is where an ERP tool such as SAP Business One or SAP B1 can provide business value.
With the accounting module and finance module in SAP B1, organizations can easily integrate these business functions with optimum efficiency. This blog will discuss the key features and benefits of the SAP B1 modules for finance and accounting.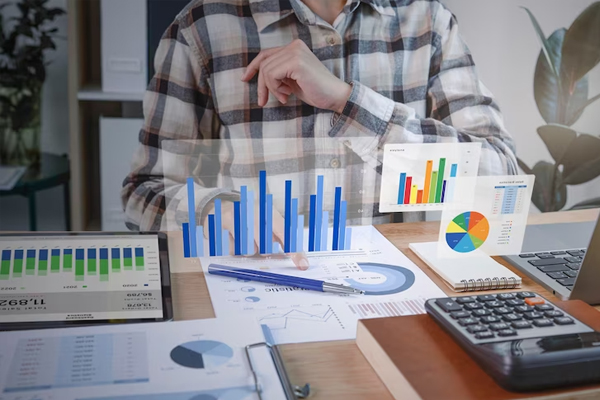 Features of SAP B1 Finance & Accounting Modules
SAP Business One offers a host of both finance and accounting features that can provide enterprises with a single and unified view of their financial operations and activities. Here are some of the key features of SAP B1 for accounting and finance:
1. Accounting Module
The SAP B1 accounting module includes all the functions and reports needed for efficient accounting and financial operations in the enterprise. For example, tax-related reports are configured according to the prevailing tax regulations in the country. Further, the accounting module allows you to document every financial and accounting transaction the organization makes. Additionally, this module automates key accounting-related processes, including journal entries, account receivables, and payables.
2. Cost Accounting
With the cost accounting feature, organizations can now easily create and manage their budget, cash flow, direct or indirect business expenses, and customer invoices. This feature enables them to manage their cash flow, track their fixed business assets, and monitor project expenses.
3. Banking & Reconciliation
With this SAP B1 feature, business enterprises can easily process internal and external payments through cash, cheque, credit cards, or online banking. Besides you can also generate reports for payments, bank transactions, and ledger entries.
4. Financial Reporting & Analysis
With SAP Business One, organizations can create both standard and customized financial reports using real-time financial data. Additionally, SAP B1 provides tools to manage cash flow, track company budgets, and generate reports.
5. Chart of Accounts
The chart of accounts feature in SAP B1 is a list of the organization's general ledger (or G/L) accounts. This chart of accounts is prepared after the organization has decided its financial accounting period.
In the next section, let's discuss the different SAP B1 Finance & Accounting module submodules.
SAP B1 Finance & Accounting Submodules
The SAP B1 Finance & Accounting module comprises the following submodules:
General Ledger manages all the external accounts operating within an organization.
Accounts Payable & Receivables records all account payables for business vendors and account receivables for customers.
Bank Accounting manages all bank-related transactions, including cash balance, bank master data, and processing incoming or outgoing payments.
Asset Accounting manages the organization's fixed assets and detailed information.
Funds Management manages all budget-related tasks like calculating revenues, expenditures, and funds.
Travel Management accounts for all travel-related business expenses and managing travel approvals, bookings, and expense settlement.
Next, let's discuss how SAP Business One enables a variety of finance and accounting-related applications.
SAP B1 Finance & Accounting Applications
With the finance and accounting modules, SAP B1 enables organizations to manage and streamline these functions for enhanced productivity. Here is how SAP B1 enables a host of finance and accounting applications, including:
How to Create a Chart of Accounts in SAP B1
A chart of accounts includes G/L accounts representing the company's assets, liabilities, revenues, sales, and other expenses. SAP B1 organizes each of these accounts in a logical structure according to the company's financial and reporting processes. In SAP B1, each G/L account has an account code, description, and other functions.
Apart from creating a chart of accounts, SAP B1 users can edit an existing chart, modify existing accounts, and rearrange the account listing.
Manage All Journal Entries
Each journal entry is a transaction record, including information like the transaction date, debit/credit amount, and description. In SAP Business One, journal entries are retrieved from sales, procurement, payment, and inventory management modules. These entries are automatically posted to the particular G/L account.
Additionally, SAP B1 users can manually record journal entries in the "Journal Entry" window to store transactions, which are not automatically retrieved from sub-ledgers or other business processes.
Manage Budget
Budget-related functions in SAP B1 are used to monitor business expenses and revenues. With SAP B1, organizations can block extra transactions once the budget limit is crossed. Additionally, budget management in SAP B1 can calculate budgets automatically based on the distribution methods marked for selected months.
Manage Incoming & Outgoing Payments
Organizations can manage incoming payments through cash, cheque, bank transfer, and credit cards. With SAP Business One, organizations can manage all types of incoming payments against the same accounts receivable (A/R) invoice or for the same customer with multiple A/R invoices.
Also Read: E-Invoicing using SAP Business One
Similarly, for outgoing payments, SAP B1 helps in creating outgoing payments for business partners & accounts. Additionally, SAP B1 helps accounts teams print or cancel payment checks, create & track documents for outgoing payments, and generate a check register.
External Reconciliation
This is the accounting process of matching external business transactions with those in SAP Business One. To perform external reconciliation, organizations can either:
a. Reconcile every individual's bank transaction with the corresponding journal entry in SAP Business One.
b. Reconcile all journal entries in SAP B1 to the closing balance in the bank account.
What are the business benefits of the SAP B1 Accounting and Financial module? Let's discuss them in the next section.
Benefits of SAP B1 Finance & Accounting Module
Organizations can automate many manual processes using the SAP B1 finance and accounting module, thus saving both time and money.
Here are some of the business benefits of the SAP B1 finance and accounting modules:
1. Streamlining Financial Operations
Using SAP B1, organizations can automate and manage their financial and accounting processes, thus eliminating record duplication and human errors. For instance, journal entries in accounting books are created automatically, which saves productive time spent on manual work and mistakes caused by manual data entry.
2. Real-time Response
When you add or update a business transaction, SAP Business One automatically updates the general ledger in real-time. Thus, by eliminating the posting of batch journal entries, SAP Business One helps companies save lots of time.
3. Automating Redundant Tasks
SAP Business One provides ready-made templates that enable companies to automate redundant tasks in financial accounting. This helps them save valuable time and avoid any mistakes in account postings.
Also Read: Financial Consolidation with SAP Business One
4. Improved Decision-Making
SAP Business One integrates financial and accounting functions with other business functions like sales, procurement, and operations. Hence, business leaders now have a unified and centralized view of their company's finances and accounts. They are better positioned to make the right business decisions with real-time financial data.
Conclusion
In today's competitive market environment, organizations can achieve business success only by adopting the right tools for digital transformation. With an integrated finance and accounting module, SAP Business One can help small and growing enterprises streamline their financial operations with minimal effort and time.
As a financial accounting solution, SAP Business One provides the necessary functionalities for organizations to monitor their overall financial health. As this article outlines, this ERP tool enables SMEs to automate their financial activities, like managing journal entries, calculating their due taxes, and performing multi-currency transactions.
An experienced SAP implementation partner like Praxis Info Solutions can help deliver customized finance & accounting solutions that work for your business requirements. At Praxis, we believe in partnering with our customers and understanding their unique business needs. Here's a detailed blog on how organizations can achieve financial consolidation with SAP Business One.
Are you seeking professional expertise leveraging the SAP B1 Finance & Accounting module? We can help you out. Book our product demo by Contacting us today.
Business Intelligence & Analytics..
Perfect enabler for insightful decision making.

Call us on

+91-88050 25521/18/19