SAP Business One on MS SQL vs. HANA – A Detailed Comparison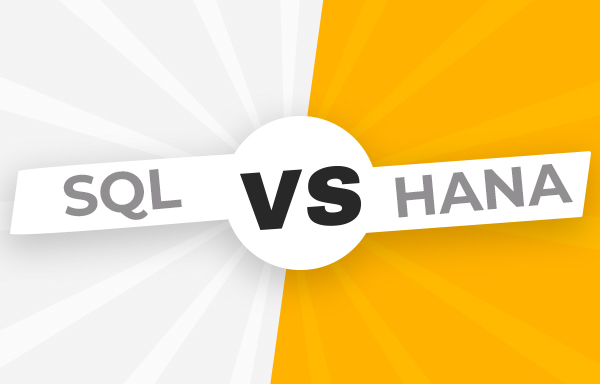 SAP Business One on MS SQL vs. HANA – A Detailed Comparison
To use the SAP Business One or SAP B1 tool in your business functions, you must choose between running your solution either on the SAP HANA or MS SQL database. Which of these two database technologies is better? The answer depends on your business requirements and how you plan to leverage their capabilities.
To make it easy for you to decide, here is a detailed comparison of SAP Business One on SQL vs. HANA.
SAP HANA vs. MS SQL – The Basic Difference
While MS SQL is based on disk storage, SAP HANA uses in-memory technology. This essentially means that SAP HANA can load data into the server memory and process the data much faster than MS SQL. Hence, HANA is more suitable for applications that need higher processing power.
Is it better to run SAP B1 on MS SQL or HANA? Let's discuss that next.
SAP HANA or MS SQL – Which is Better for Running SAP B1?
First, let us look at how running SAP Business One on the HANA database allows you to leverage some functionalities that are not available on MS SQL.
Additional analytical tool features include pervasive analytics, interactive analytics, and the analytical portal.
Intelligent forecasting and delivery schedule management allows you to confirm the status of purchase orders, select alternative products, expedite selected orders, and reschedule sales orders.
Enterprise-wide SAP HANA features include in-memory technology and real-time data aggregation.
Easy integration with SAP OData web protocol for building on external web technologies such as HTTP. This helps in accessing information from external applications, platforms, and devices.
Built-in dashboards for business functions such as financials, sales, marketing, and customer service.
Real-time forecasting of cash flows with a graphical representation can streamline your cash flow management with proper timelines and accurate reporting.
Enterprise searches like Google allow you to search the HANA database for any document, business partners, and other data.
Ad-hoc and interactive data analysis for improving end-user productivity and insights.
Additionally, the Analytical portal functionality available only in the SAP Business One HANA version allows you to:
Publish and share your documents to MS Excel and SAP Crystal Reports.
Display only authorized reports to any portal user.
Download the authorized documents in multiple formats including MS Excel, PDF, and HTML.
Run the documents on multiple devices including web clients and mobile devices.
Support both on-premises and on-demand users.
Schedule the automatic downloading of documents on a daily, weekly, and monthly basis, or whenever you need them.
Also Read: How does the Mobile Application of SAP Business One Help?
Next, let us discuss other benefits of choosing SAP Business One vs. SQL for running SAP B1.
1. Stability
The question is whether SAP HANA is stable as it is a new technology? As the database technology, SAP HANA has been around since 2010 and was initially used only for high-end SAP applications. In 2012, SAP HANA was integrated into SAP B1 applications. On its own, the SAP HANA tool is being used by over 16,300 global customers.
2. Cost
The next consideration is if the HANA license fees are more expensive than SQL? Essentially, the license fees for SAP Business One are the same for both databases. The license fee for both SAP HANA and MS SQL are competitive at the basic level. However, SQL fees for an enterprise-level package are much higher than that for SAP HANA.
Also Read: How to Become an Intelligent Enterprise Using SAP Business One
SAP HANA does cost more when you run it on an on-premises server as it needs a server with a specialised configuration that enables it to process data much faster.
3. Server Configuration
Does SAP HANA need a high-end server to run as compared to MS SQL? SAP HANA needs a "Certified by SAP" configuration specially designed to run HANA. All leading server manufacturers offer these.
4. Cloud Compatibility
The next question is if the SAP Business One on HANA solution is available on the cloud and is it more expensive? The answer is yes. SAP Business One on HANA is available as a subscription-based SaaS Cloud plan. Alternatively, a customer can deploy the application (HANA based) on a server in a data center.
5. Business Requirement
Which is better – SAP HANA or SQL?
This question is best answered after analysing customer's nature of business, complexity of the business processes, quantum of data and reports that need to be processed and the intrinsic need for business analytics in critical decision making.
6. Business Intelligence (BI) & Analytics
Which database is better when it comes to BI and analytics capabilities? On its part, SAP B1 on HANA does not separately require a database system for running analytics. Thanks to in-memory data storage, BI tools like SAP Lumina or Crystal Reports can directly access the stored data and perform real-time analytics with any performance drop.
Also Read: 10 Questions to Ask While Evaluating Business Intelligence Tools
This integrated capability creates less-complex IT infrastructures, as BI reports can be generated dynamically and executed on the SAP B1 ERP tool directly.
7. Future Scope
As an ERP technology company, SAP is investing more in its HANA database to improve its in-memory capabilities. Future possibilities in terms of better mobility, scalability, and dashboard reporting features look positive for SAP HANA. Businesses that want to leverage SAP innovation should invest in SAP tools for future benefits.
Also Read: Is HANA too big for SMEs?
Conclusion
In short, SAP Business One users can choose between the SAP HANA database and MS SQL database based on their specific business requirements. Overall, SAP HANA offers a wide range of functionalities such as support for advanced analytics, intelligent forecasting, more options in ATP functionality. MS SQL database has been in the market for much longer period and reosurces with skills in this DB are available easily.
Since its inception, Praxis Info Solutions has developed industry expertise delivering a range of SAP B1 solutions for its global customer base. The company has experience in implementing both SQL based and HANA based applications.
If you are looking for a reliable IT partner to maximize your SAP investments, then it is time to call us.
Image source: Unsplash
Business Intelligence & Analytics.. Perfect enabler for insightful decision making.

Call us on

+91-88050 25521/18/19