Among the major enhancements in SAP Business One 10.0, Document Printing allows you to print documents from its various modules in bulk. The business document printing feature allows you to print documents from SAP Business One, or B1, modules such as sales, purchase, banking, financial, and production.
For instance, in the banking module, you can use the SAP B1 printing to print transaction details, payment checks, and deposits. Additionally, you can use the Document Printing feature to send documents by email to your business contacts and partners.
Next, let's discuss how to print documents in batches using SAP B1.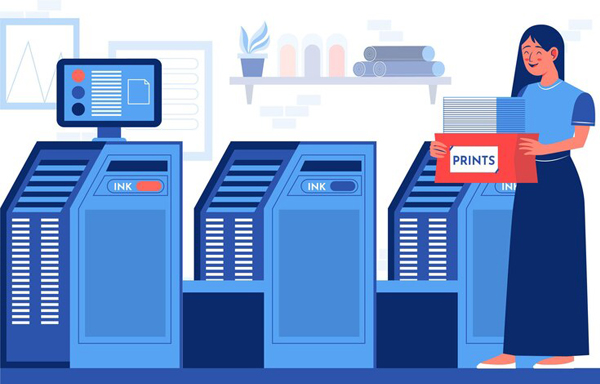 What is Document Printing in SAP B1?
In SAP B1, the Document Printing functionality is used to print various business documents, bank checks, and reports. Why is this printing functionality required? Many organizations spend a lot of valuable time printing documents daily. This functionality simplifies this process and enables companies to save time and effort.
For instance, you can print documents and reports immediately after creating your SAP B1 database. Additionally, you can modify the predefined template for print according to your business requirements. You can also send documents through email or export them as PDF documents.
How do I print a document to PDF in SAP B1? You can use the "Document Export" feature to change the default print layout to supported file formats including PDF, Text, Images, MS Word, and more.
Here are some of the additional capabilities provided by SAP B1:
SAP B1 tracks the printing status of printed documents. For instance, if you have already printed the document, it will inform you that this task is already completed.
SAP B1 can also automatically print documents immediately after the document is added.
Next, let us discuss how to print documents in bulk using SAP B1.
How do I Print Multiple Documents in SAP B1?
Here are the steps to execute to print multiple documents in SAP B1:
1. From the main SAP B1 menu, open the module where you want to print documents.
2. From the "Document Printing" section, open the "Selection Criteria" to configure the selection criteria for the documents to be printed. Typically, the selection criteria include:
● The type of document to be printed. For example, purchase orders.
● Date range. For example, payment cheque dates.
● Series
● Printer settings. Available options include "Open Only" documents or documents that still need to be printed or emailed. You can also select the "Obtain printer settings from default printing layout" checkbox. The rest of the printer settings vary according to the current SAP module and type of document.
Also Read: New and Improved Production Module in SAP Business One
3. Click OK to display the list of documents, in a tabular format, that meet your selection criteria.
4. Select the documents that you want to print or email and then click the "print" or "email" icon in the available toolbar.
You can print multiple documents on the configured printer. For email, you can send each document separately to each mail recipient.
How do I print an invoice in SAP B1? In the following section, let's take an example of how to print multiple invoices for a single business partner.
How to Print Invoices in SAP B1?
You can use the "Finance & Accounting" module in SAP B1 to print multiple invoices for a business partner. Using the "Document Printing" functionality, select the document type as "A/R invoices." Once you have entered the selection criteria, you can create the list of invoices generated for a posting and due date.
For the list of generated invoices, use the "Filter Table" tool and then enter the BP Code of the target business partner. Once you have filtered the selection, you can choose to print the final list of invoices.
Next, let's look at the enhancements to document printing in SAP B1 version 10.0.
Document Printing Enhancements in SAP B1 10.0
Here are some of the document printing-related enhancements in SAP Business One 10.0:
Selection Criteria
The selection criteria in document printing are now enhanced by the type of document to be printed. Based on the selected type of document, the rest of the fields are also updated. The table below illustrates this change:
Document Type
Additional Fields
Purchase Orders
BP code (with "From" and "To" fields to specify the range of code)
Customer Group
Vendor Group
"Open Only" checkbox (to indicate only open purchase orders)
Checks for Payment
Posting Date range – indicating the date range when the payment checks were posted.
Print Checks with options – "To Be Printed" (for printing purpose only), "For Reissuing" (to cancel the issued check and print a new check), "Check details only" (to check the check remittance details only)
Bank Account – to specify the bank account used for check printing in SAP
User Defined Fields (UDFs)
In the "Form Settings" window, you can now display additional UDFs (created by users) as columns. UDFs vary according to the type of selected document.
Conclusion
With the new "Document Printing" functionality in SAP B1, organizations can easily print documents and reports in bulk, thus saving both time and effort. This functionality enables you to print a wide variety of business documents including invoices, purchase orders, and payment checks.
As an authorized SAP partner, Praxis Info solutions has helped its global customers with customized solutions in SAP Business One. Here is a detailed blog on how to solve common business problems using SAP Business One.
We can help you with any query on how to use SAP Business One to grow your business. Contact us today.
Business Intelligence & Analytics..
Perfect enabler for insightful decision making.

Call us on

+91-88050 25521/18/19