As the business grows, organizations find it challenging to manage their business processes and resources optimally. Therefore, they look for ways to automate their processes including sales, marketing, recruitment, and inventory management.
To improve their business productivity, companies need an integrated system of applications that can seamlessly connect with each other. Enterprise Resource Planning, or ERP, is the right tool or solution to integrate diverse processes under a single platform.
Thanks to its global popularity, the SAP system has become synonymous with ERP. However, the two are not the same and have some differences. In this blog, we shall look at the major differences between SAP and ERP. However, let us start by looking at each one in detail.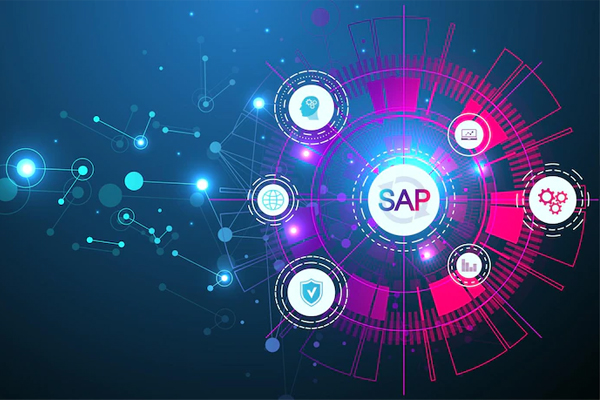 What is ERP?
By definition, an ERP is a set of integrated modules that are designed to manage and coordinate the daily activities in an organization. Typical activities include accounts, inventory management, order management, and HR-related tasks. By integrating different business functions as modules into a centralized system, an ERP system can effectively manage business operations and improve the overall productivity of the organization.
Also Read: SAP Business Technology Platform – An introduction for Enterprise Architects
Essentially, an ERP solution can include a broad set of business activities performed by an organization. As a technology, ERP can eliminate redundant processes and automate the core process of the enterprise.
What is SAP?
SAP is the short form for Systems, Applications, and Products. Based in Germany, SAP develops ERP solutions for its global customers. This software company is the leading global vendor of ERP-based solutions as well as a market leader in enterprise solutions.
SAP solutions are designed for use in large corporations as well as small-to-medium enterprises. Essentially, the SAP tool integrates processes across business functions into an SAP module. Some of the commonly used SAP modules are:
Human Resources Management (HRM)
Finance & Accounting
Customer Relationship Management (CRM)
Inventory Management
Materials Requirement Planning (MRP)
Supply Chain Management
ERP vs. SAP—the Main Differences
So, now you know that ERP and SAP are similar but are not the same. Are you still wondering what is the main SAP and ERP difference? Well, ERP is the technology solution that enables organizations to manage their business processes. Meanwhile, SAP is a company that creates and markets various ERP solutions to its customers.
SAP vs. ERP: The Following Table Highlights the main Differences
ERP
SAP
Definition
A process management tool that integrates the various processes within any organization.
An integrated ERP solution offered by SAP AG company
Vendors
SAP AG
Sage Group
Oracle Applications
SAP AG
Application
ERP is a superset of SAP
SAP is a Tier-1 ERP solution
Purpose
Integrates data and business processes such that all applications can view and share real-time data.
Comprises multiple ERP modules that work across business functions within the organization.
Examples
NetSuite ERP, Scoro, and AcTouch.
SAP Business One, SAP Enterprise Buyer Professional, SAP Business Intelligence.
ERP vs. SAP – Business Benefits
What are the business benefits of investing in SAP ERP as against other ERP solutions? Let's discuss the benefits of ERP first.
Streamlines business processes across the organization.
Improves employee productivity through real-time data availability.
Avoids resource wastage by eliminating delays in tracking customer requirements and accessing real-time data from different departments.
Manages business assets including capital assets, raw materials, and infrastructure.
Increases customer satisfaction by analyzing real-time data from customers.
Ensures compliance with industry regulations.
Improves time efficiency by enabling automatic task executions.
Improves business agility and flexibility by removing "organizational silos" and sharing real-time data between business units.
Enables cost efficiency and management by reducing wastage and improving productivity.
Improves decision-making capabilities among business executives and leaders.
Also Read: How ERP Can Be Used to Improve Company Performance
Next, let's discuss the business benefits of implementing SAP solutions against any other ERP solution.
1. Advanced Data Management
Using performance metrics and measurements, SAP customers can measure their business performance and plan their future objectives. Through seamless process automation, SAP enables organizations to share their data between departments and augment their decision-making process.
2. Improved Transparency
SAP systems store and process real-time data in a centralized database. This eliminates the chances of data duplication and errors. Additionally, the SAP ERP system monitors every business operation including purchase orders, materials procurements, and inventory control. This enhances the overall transparency of the organization in its internal operations.
3. Improved Business Performance
SAP-based ERP solutions eliminate the need to manually enter data, thus removing all repetitive tasks. Besides improving employee productivity, SAP can reduce the probability of erroneous data entries, which can be costly to any business. By streamlining business processes through automation, SAP ERP can enhance the performance of daily tasks and operations.
4. Seamless Integration
In the manufacturing and supply chain domain, SAP ERP helps to connect customers and other value chain members like suppliers, partners, and vendors. This provides a competitive advantage for SAP customers as against other ERP users. SAP customers can, thus, design and develop new products and services that add business value to their customers.
5. Cost Efficiency
SAP ERP provides various business functions to access real-time information. This helps in reducing administrative and operational costs incurred by the company. For instance, manufacturers using SAP solutions can prevent production delays and control their daily operations.
Conclusion
As the market leader in providing ERP solutions, SAP has enabled growing companies to integrate key business functions within a single centralized system. By investing in SAP solutions, organizations can improve their operational efficiency to the next level and achieve cost efficiency.
Praxis Info Solutions is an award-winning SAP implementation partner that is specialized in ERP solutions like SAP Business One. We offer customized SAP solutions to both large enterprises and SMEs across industry domains. Here is how we can help SMEs overcome the ERP challenges that they face during implementation.
Are you struggling to determine which ERP solution is best designed to improve your business operations? Our ERP consultants can help you take the right decision. Contact us today.
Business Intelligence & Analytics..
Perfect enabler for insightful decision making.

Call us on

+91-88050 25521/18/19