SAP Business One is a management solution for small, medium and enterprise-level businesses that helps them optimize their processes such as sales, inventory and accounting. This ERP software streamlines key operations allowing companies to gain maximum control across processes. Its key functions include integrating business intelligence, efficient deployment on-premise or on the cloud, and integration with the specialized platform SAP HANA for data-analytics-based decision-making. SAP B1 focuses on the simple needs of SMEs and startups for day-to-day tasks.
With the commencement of Industry 4.0, businesses cannot be complacent with being digital with an online presence. They have to adapt to 'smart' processes defined by Industry 4.0 using the Internet of Things. Addressing this demand for IoT solutions, SAP Business One is re-purposing its core capability of integrating businesses.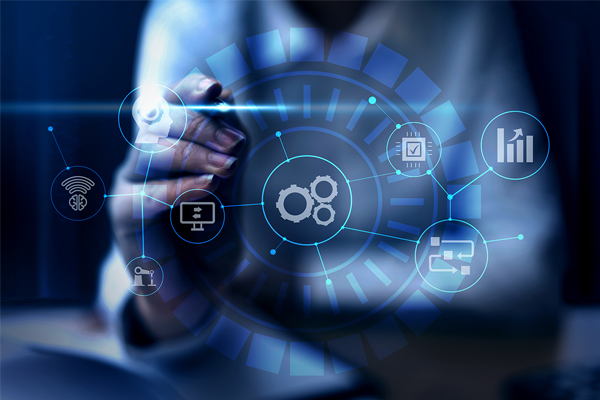 SAP B1 addresses Industry 4.0 requirements by connecting and integrating systems so that information exchange between modules and devices is seamless.
Industry 4.0 and SAP Business One – Enablers
With digital transformation maturing, speedier services, customized features and quality of standards have become necessary measuring yards for technology providers aiding such transformation.
Also Read: How SAP Business One is Getting Ready for Industry 4.0
To achieve these metrics, technology solution providers must—firstly, manage the business process, and secondly, manage the data generated by the business. Most technology providers aim to achieve both with a single solution. Hence, businesses need automated processes and minimal manual input, ensuring zero-error data input; and deletion of repetitive tasks. Errors and duplicating tasks are 'costly' for businesses and mean poor execution time.
An ideal solution to match the evolving demands of organizations is SAP IoT Solutions known as – Digitalization of SAP B1-Enablers.
What is SAP IoT?
Internet of Things (IoT) is a technology platform that processes data shared by sensor-embedded physical and virtual objects. It is shared on a network, using the Unique Identifiers (UID) of each object. The network of such connected Internet-driven objects helps in capturing and storing data, which can be used by 'smart' applications to generate more specific results in any industry. IoT is used real-time extensively in agriculture, retail, manufacturing, industrial control, and other industries.
The two-way communication between smart or connected systems gives businesses large volumes of data to be processed and better services rendered. The many ways SAP Business One can leverage IoT is via the Integration Framework for:
Factory Automation – In these application categories, production orders can be monitored and fully controlled by sensors which connect SAP B1 and the machines.
Cold Storage – In this category, SAP Business One can use data generated by its sensors to monitor and alert failures in massive cold storage facilities.
SAP Internet of Things
For IoT to work, two key technologies are pre-run to ensure data inputs from the sensor-embedded objects make sense to analysts. Artificial Intelligence is an umbrella term used for most Internet-driven data computing. Machine Learning is one of the sub-technologies of artificial intelligence. An integral process of IoT data to be usable in businesses is Machine Learning. This is a process by which data, be it Twitter's text tweets or Alexa's voice messages, are deep-analyzed by machines and matched with its database to determine newer inputs as well. These 'sensible' data are then processed and cleaned of errors, repetitions, and anomalies to generate final cleansed data for algorithms to consume and generate mind-blowing computational probabilities.
In any type of business, 'tweets' are very important bytes of communication and data sources. These tweets could be about market data, political data or socio-economic issues which may impact the business shares, stocks and performance. Intelligent software applications cleanse tweets and structure the data for internal processing over its technology infrastructure.
The business processes are therefore automated so that they can seamlessly operate with real-time and market-sensitive data inputs of unstructured format as well.
What SAP Business One IoT can do is bring together the unique and powerful capabilities of AI and ERP and ensure businesses have tomorrow's technology solutions today.
Also Read: What is SAP ERP?
IoT in SAP: Solution
With the integration of IoT in SAP, businesses can draw in unstructured data from Apps, especially Twitter App's tweets daily.
When Amazon.com's voice assistant Alexa is integrated, per voice can activate or operate a system on the SAP Business One.
The immediate solutions that IoT in SAP can provide include:
Recommendations for Customers – With SAP B1, a business can generate different customer profiles in terms of their buying patterns and use AI technology to "find" or generate product recommendations.
Forecast Based on Intelligence – This statistical forecast is of very high quality as no data is left unturned by the algorithms and inventory level analysis is optimized.
Chatbot – Using Messaging Application Programming Interfaces (APIs) like WhatsApp, a business can expand and automate its customer relationship management processes. The Chatbot can provide highly-structured data inputs such as sales orders, sales quotations, service tickets and more.
How can SAP IoT Change your Business Intelligence?
The advantages of using such integrated systems are very valuable and of strategic importance in the long run in the following ways:
The overall workflow is enhanced
Data handling is nearly-automated
Decision-making is based on data-sensitivity
Data input is automated
Therefore, for the entire platform of IoT SAP to be successfully deployed in any business, the use of Big Data is crucial.
Role of IoT Sap Business One is defined by Big Data
For a successful run of IoT SAP, the use of Big Data happens at two levels:
Search at the Enterprise Level – In this level, the business information, which is free data or data that has no meaning, is captured from all the inputs and even across documents and from verified sources of the organization. Hence, there is a very large volume of data always available for interpretation via SAP IoT.
Analysis and Prediction – The most important use of Big Data is for analysis. This is an emerging science or Data Science, which uses sophisticated statistical analysis to predict or present alternatives of the likely outcome at all levels. This ensures your business has an ongoing business intelligence input for seasonal trends using historical data.
Cold Storage – automated solutions using IoT to connect monitoring and control services
Factory Automation solutions
Therefore, SAP IoT is the digital transformation tool for your business.
To find out how SAP IoT can jump-start your business talk to the IoT expert team at Praxis Info solutions. With a seamless ERP management tool, find new solutions to make your systems sing together. Contact us with your business queries today.
Business Intelligence & Analytics..
Perfect enabler for insightful decision making.

Call us on

+91-88050 25521/18/19