Valued at $86.3 billion in 2020, the global market for Industry 4.0 is projected to increase in value to $267 billion by 2026. The COVID-19 pandemic has accelerated the move towards Industry 4.0, also called the fourth industrial revolution.
The manufacturing industry is gradually transitioning from its "traditional" human-led processes to automated processes that use a variety of digital technologies. Hence, manufacturers require an intelligent and advanced ERP system such as SAP Business One to support Industry 4.0.
Before discussing SAP Business One and Industry 4.0, let's briefly talk about Industry 4.0 and its impact on the manufacturing sector.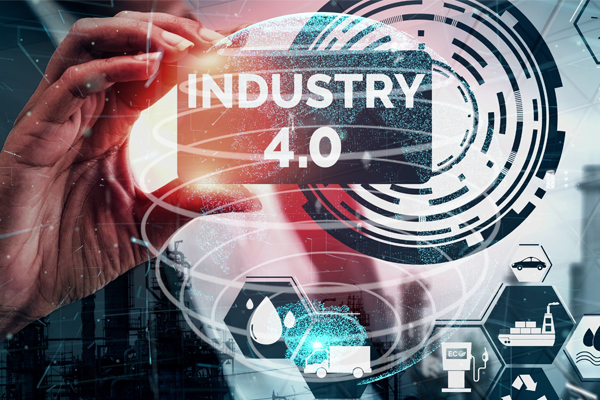 What is the Impact of Industry 4.0 on Businesses?
Industry 4.0 is essentially the digital transformation of manufacturing using technologies such as Industrial IoT, Artificial Intelligence, and Big Data & Analytics. Effectively, Industry 4.0 enables significant improvements in the manufacturing process right from material procurement and supply chain to production and maintenance.
What is the Impact of Industry 4.0 on Manufacturing Business? Here are a Few Benefits:
Improves overall productivity and operational efficiency through a host of connected devices, sensors, and processes.
Reduces machine maintenance costs by 50% through data-enabled predictive maintenance and improves machine uptime and productivity.
Enables automated production that reduces time spent on product development and adapts products quickly to changing market conditions.
Improves business revenues thanks to improved product quality and innovations.
Enables the creation of automated "smart factories" that are cost-effective and driven by the latest technology.
For successfully implementing Industry 4.0, manufacturing companies require a reliable and efficient ERP solution like SAP Business One or SAP B1. On its part, SAP B1 stores massive volumes of data and streamlines business processes such as inventory management, procurement, logistics, supply chain, and other supporting processes.
Also Read: Why Industry Vertical Expertise is Needed from the Partner?
Next, let's discuss SAP Business One and its key features for Industry 4.0.
SAP Business One – Key features for Industry 4.0
As an integrated ERP solution, SAP Business One enables manufacturers to operate their business processes such as sales, inventory, and production. Additionally, with SAP B1, they can gain complete control over their business operations. By using SAP B1, manufacturing companies do not need to invest in multiple solutions for different business processes, thus saving costs and integration-related issues.
Here are some of the key features of SAP B1 for Industry 4.0:
1. Purchase and Supply Chain Management
With SAP Business One, manufacturers can avail of its purchase and supply chain management feature. For instance, the supply chain management module enables tracking and managing the entire supply chain and order-to-pay purchase cycle including invoicing, payments, and receipts.
The Purchase or Procurement module of SAP B1 streamlines the entire procurement process along with additional capabilities like master data processing, warehouse management, and accounts payable.
2. Customer Management
In the age of personalized services, SAP Business One supports manufacturing across the entire customer lifecycle. This includes the process from the initial prospecting, and order placement, to after-sales customer support and service. With real-time customer data provided by SAP B1, manufacturers can identify their specific needs and cater their products to their requirements.
3. Financial Management
In the Industry 4.0 domain, manufacturers need complete control over their financial operations including accounting, budgeting, cash flow, and payment transactions. SAP Business One effectively automates financial and accounting management with features such as seamless banking, reconciliation, financial report generation, and fixed asset management.
Through financial management, SAP B1 eliminates human errors, improves profit margins, lowers costs, and helps in improving the financial decision-making process.
4. Warehouse Management
The Warehouse management feature of SAP B1 is essential for manufacturers running their business from multiple locations. Manufacturers adopting Industry 4.0 need to maintain optimum inventories and stocks across multiple locations. With SAP B1, manufacturers can manage their real-time warehouse inventory for cost-efficient production.
This feature also helps manufacturers track their inventory movements, improve their delivery time, and optimize their inventory levels.
5. Data Analytics and Reporting
Data analytics is a critical factor for successful manufacturers in Industry 4.0. With SAP Business One, manufacturing companies can generate real-time reports that are customized to their requirements. With access to real-time manufacturing data, companies can make effective decisions. SAP B1 enables the management team in a manufacturing company to get immediate answers to critical questions.
Effective data analytics and reporting also enable business intelligence (BI) and data visualization.
Also Read: 10 Questions to Ask While Evaluating Business Intelligence Tools
How do SAP Business One Solutions Help with Industry 4.0?
Among the many benefits of Industry 4.0, the SAP B1 Industry 4.0 solution can be implemented on-premises, cloud, or even from a mobile phone. The on-premises SAP B1 implementation provides compliance with all data security regulations. Similarly, the cloud-powered SAP B1 solution is easy to install and deploy on any cloud platform. Manufacturing executives can manage their business processes using web applications.
With its mobile app support, SAP Business One provides instant access to remote executives on their mobile phones. They can view or update real-time data from any location while on the move.
Overall, SAP Business One improves the business agility of manufacturing companies moving towards Industry 4.0. With its multiple ERP modules, SAP B1 can easily streamline business processes and improve products and services continuously to end customers.
Conclusion
ERP solutions such as SAP Business One are enabling the manufacturing industry to adapt to the demands of Industry 4.0. Through digitalization and automation of manufacturing processes, SAP B1 can help in delivering high-quality products in a faster time and at lower costs.
Praxis Info Solutions is among the leading implementers of Industry 4.0 solutions from SAP. With our SAP Business One expertise, we can customize your Industry 4.0 SAP solution to extract maximum benefits for your organization. Here is a detailed blog about the role of ERP in manufacturing along with its features and benefits.
We can help you leverage benefits from your investment in SAP solutions. Contact us today.
Business Intelligence & Analytics..
Perfect enabler for insightful decision making.

Call us on

+91-88050 25521/18/19