The manufacturing sector is undergoing a massive digital transformation with the emergence of IoT technology and Industry 4.0. From production to payroll management, technology-driven solutions are transforming every manufacturing function. One such solution is Enterprise Resource Planning or ERP.
ERP in manufacturing plays a critical role by integrating various business functions under one umbrella. Today, we will discuss the importance, benefits, and features of ERP implementation in the manufacturing industry.
Why do Manufacturing Companies Need ERP?
Be it a small-sized manufacturer or a global manufacturing company, they can benefit immensely from the manufacturing module in ERP solutions.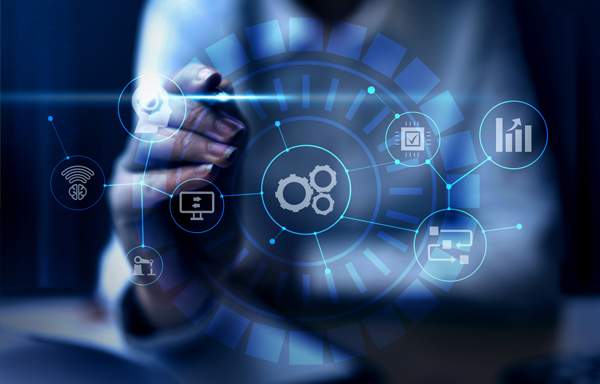 An ERP tool is a natural fit for any manufacturing company. ERP manages and integrates processes including manufacturing, procurement, supply chain, and distribution.
Besides improving production efficiency, manufacturing ERP solutions provide 360-degree visibility into daily operations. Effectively, ERP for manufacturing acts as the single "source of truth" which provides updated information to any business department or process. With increased visibility, business stakeholders can coordinate and collaborate more efficiently.
What are the typical features of any ERP software for manufacturing? Let's discuss them next.
Key Features of Manufacturing ERP Systems
ERP solutions comprise multiple manufacturing ERP modules with functionalities to improve business functions. Here are some key features of ERP for manufacturing companies:
1. Manufacturing Modules
Manufacturing modules are a key component of any manufacturing ERP system. Starting from materials requirement planning (MRP), ERP solutions have evolved to add more manufacturing-related modules like production management and manufacturing execution systems.
Manufacturing modules enable manufacturers to plan their production schedule by ensuring the availability of raw materials and production machinery. These modules also improve the manufacturing process by tracking output against forecasts. They also provide a real-time view of manufacturing operations by capturing data about in-progress and finished products.
2. Inventory Management
Every manufacturer needs a healthy inventory stock to manufacture their products on time. With the inventory management ERP module, manufacturers can have complete control over their available inventory stock and raw materials. Additionally, just-in-time and MRP help manufacturers streamline their inventory purchases.
3. Automated Processes
With ERP-driven automation, manufacturers can automate their manual processes and reduce human effort and errors. With manufacturing ERP, companies can automate various processes such as sales invoicing, procurements, and HR functions.
4. Quality Control
Poor product quality can be detrimental to any manufacturing company. With quality control, manufacturers can ensure that their finished product meets quality standards and regulations. On its part, ERP tools can monitor the quality of the manufacturing processes right from start to completion.
5. Accounting and Finance
Besides the manufacturing module in ERP, the accounting module helps manufacturers to keep track of their financial transactions and accounts. Effectively, this feature enables manufacturers to improve their profits and reduce their business expenses. Through integration, accounting managers can also allocate the right budget for procuring raw materials, labor, and transportation.
6. Supply Chain and Distribution
Inefficient supply chains and distribution can delay production and finished product deliveries. The supply chain management feature of ERP solutions tracks the real-time movement of goods and supplies across the entire supply chain. This includes suppliers, manufacturers, distributors, retailers, and end customers. Additionally, this module enables manufacturers to easily manage products and/or materials for refunds or replacements.
Also Read: New and Improved Production Module in SAP Business One
How can ERP Improve Manufacturing?
Next, let's discuss the key benefits of ERP for the manufacturing industry.
Key Benefits of Manufacturing ERP Systems
Here are some of the key benefits of ERP in the manufacturing domain:
1. Improves Productivity
Through its integrated approach, manufacturing ERP solutions provide a centralized solution to optimize available resources. With an effective ERP solution, manufacturers have real-time information that can help in better decision-making. This can improve productivity in the long run.
2. Eliminates Process "silos"
Without ERP integration, every manufacturing process works as an individual silo. Process silos create an "invisible wall" between business functions, resulting in uncoordinated efforts and inefficiency. ERP eliminates process silos by providing visibility across all manufacturing operations and processes.
3. Reduces Business Costs
In the face of growing competition, ERP solutions enable manufacturers to optimize their operations and reduce business costs. With a centralized ERP implementation, companies don't need to invest in function-specific tools. Through process automation, ERP tools reduce manual errors and improve employee efficiency.
4. Improves Forecasting and Reporting
Manufacturing companies often face critical situations where there is a sudden increase or drop in demand for a product. With real-time ERP data, manufacturers can forecast demands by understanding market trends and factors. Manufacturers can generate accurate forecasts and reports based on historical data and trends.
Which ERP system is best for manufacturing? Now, let's look at how manufacturing companies must choose the best ERP tool.
Choosing the Right Manufacturing ERP Tool
Manufacturing ERP solutions primarily comprise custom ERP and off-the-shelf ERP. The right ERP solution is the one suited to the business needs of the manufacturing company.
For instance, based on how they are deployed, ERP solutions can be categorized as:
On-premises ERP solutions are implemented on your local systems. This provides complete control and ownership of the ERP implementation. On the flip side, on-premise ERP is expensive to operate and has limited scalability for business growth.
Cloud-based ERP offers more flexibility and scalability than on-premises ERP. It is run and maintained on an external cloud platform, hence is more cost-effective.
Hybrid ERP combines both on-premises and cloud ERP. It helps manufacturers leverage the best of both worlds.
Besides the right ERP tool, manufacturing companies must also determine the right ERP modules that can add value to their operations. Depending on their business model and current processes, manufacturers can choose which modules are the right fit to automate their processes.
For instance, every manufacturer needs a Finance and Accounting module to track their financial transactions and generate real-time accounting reports. For companies with a growing customer base, the Customer Relationship Management or CRM module is essential to retain and grow their customer base. Similarly, every product manufacturer requires inventory management, supply chain management, and order management.
Also Read: SAP Business One Helps in Implementing Best Practices of Inventory Management
Conclusion
The manufacturing industry must continue to digitalize its operations to adapt to changing business environments. Manufacturing ERP solutions such as SAP enable manufacturers to achieve operational agility and process efficiency. For general manufacturers, ERP solutions like SAP Business One can reduce their operational costs while delivering improved productivity.
Praxis Info Solutions is an award-winning SAP ERP solution provider that has delivered customized solutions for its manufacturing customers. At Praxis, we work closely with our customers in understanding their business requirements and designing ERP solutions to address their business problems. Here is a detailed blog about how manufacturers can leverage the various types of bill of materials (BOM) in SAP Business One.
Are you looking for a reliable ERP implementation partner for your manufacturing company? We can be of assistance. Contact us with your business queries and details today.
Business Intelligence & Analytics..
Perfect enabler for insightful decision making.

Call us on

+91-88050 25521/18/19