10 Myths About SAP Business One You Need to Clear Right Now
By Dattatreya R.Kulkarni Posted November 09, 2022 | Benefits of SAP Business One, Management, SAP Technology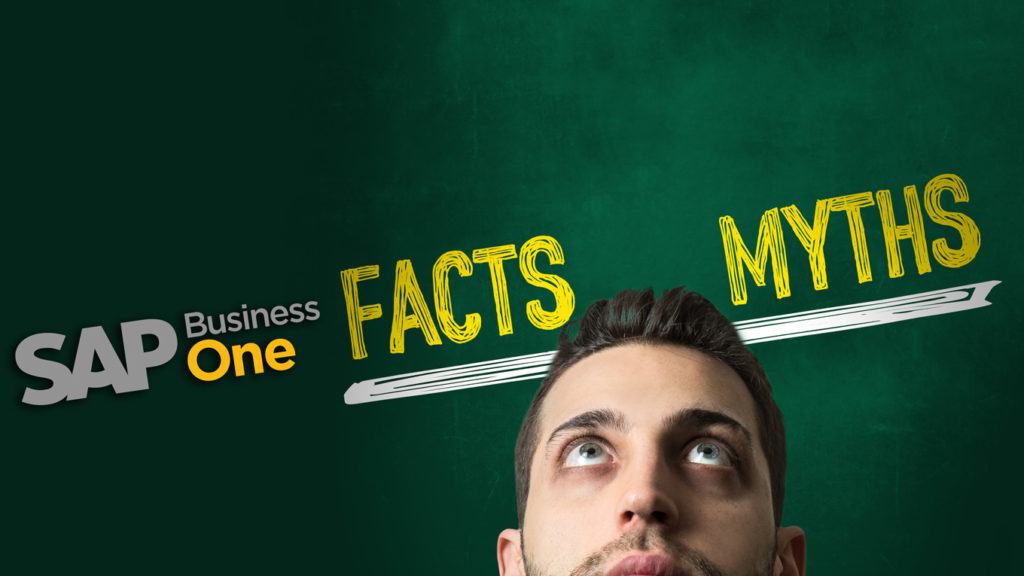 Also known as SAP B1, SAP Business One is among the leading ERP tools in the market today. This ERP tool is essential for automating business processes across functions such as Sales and Marketing, Finance and Accounting, Manufacturing, and Customer Relationships.
At the same time, there are several myths related to SAP Business One that makes organizations reluctant to invest in this tool. Today, we will dispel those myths and present facts about SAP B1. So, let's get started.
MYTH 1: SAP is for large companies, not for us!
Among the popular SAP myths, SAP solutions are considered a good investment for large enterprises and multinational companies. Over the years, SAP solutions such as SAP Enterprise have been adopted by Fortune 500 companies and large enterprises in India.
However, the SAP Business One tool has been specifically designed for small to medium-sized companies. Currently, around 250,000 SMEs are using SAP B1 around the globe. The tool has a customer base of over 65,000 and over one million users, mainly in the SME sector.
Myth 2 – SAP B1 cannot be Used in the Manufacturing Industry
Another common myth for SAP Business One is that this tool cannot be used in any manufacturing company. With extensive features such as supply chain management and materials resource management, SAP B1 is particularly designed for the manufacturing domain. Other features include Bill of Materials (BOM), Production Orders, and Product costing.
SAP B1 can be used across manufacturing sectors including food processing, automobiles, and general manufacturing.
Myth 3 – SAP B1 takes Many Years to Implement
Implementation of SAP projects depends on several factors such as business expertise, customer requirements, and the desired ERP business functions. Hence, implementation can be long for large and complex organizations with a global presence and diversified business interests.
However, one of the SAP Business One truths is that it can take anywhere between three to six months to be implemented. Additionally, organizations partnering with an experienced SAP implementation partner can complete their SAP B1 implementation on time.
Myth 4 – SAP B1 is Expensive
Among the most common myths about SAP solutions is the perception that it is expensive to buy and maintain. This myth also stems from another related myth that SAP solutions require expensive on-premises infrastructure to operate. The reality is that customers get the cloud platform with competitive pricing to run their SAP B1 solution.
Delayed implementation can also add to the cost factor. With the right guidance and expertise of an SAP business partner, organizations can roll out their SAP B1 solution in a phased manner, thus saving both time and costs.
Myth 5 – SAP B1 is Hard to Understand
This is another one of the common SAP B1 myths. SAP B1 is user-friendly and easy to use even for novice users. The ERP tools are packed with multiple ERP modules each of which is easy to understand for functional users. SAP B1 is easy to navigate and provides users with easy-to-use menus for different functionalities.
Besides, SAP Business One offers a host of user-friendly tools to create custom forms and generate business reports. Users without any technical knowledge can also use these tools.
Myth 6 – SAP B1 cannot be Customized
This is another common misconception about SAP solutions including SAP Business One. The fact is that SAP B1 is available with customization options for different industries. In addition to the standard ERP modules, SAP B1 users can implement custom modules and add-ons to extend their functionality.
SAP B1 is flexible enough to integrate with third-party tools such as Zoho CRM, thus enabling organizations to run their operations efficiently.
Myths 7 – Organizations Need a Large Team to Manage SAP B1
No, organizations do not need to hire more SAP resources or experts to manage their SAP B1 implementation. Additionally, SAP B1 customers do not need any dedicated resources just to manage their ERP system.
A reliable SAP implementation partner, with their assigned team, is sufficient to manage the ERP system. SAP customers are known to run their ERP systems even with one in-house ERP expert. Cloud-hosted SAP B1 has further reduced the demand for in-house resources.
Myth 8 – Customers cannot Choose which SAP B1 Modules to Install
This is another popular myth about SAP B1. Organizations can install and use SAP B1 in multiple phases. Depending on their business requirement, they can choose the SAP B1 features to be used immediately. For example, you can choose to install SAP B1 with modules like supply chain, finance, and logistics.
Additionally, customers can leverage the benefits of SAP Business One by installing a minimum number of ERP modules. An experienced SAP business partner can also analyze your business requirements and recommend the modules to install initially.
Myth 9 – SAP B1 cannot Work with Existing Business Data
There is also a popular misconception that SAP systems cannot work with existing data from non-SAP systems. This means that organizations adopting SAP B1 can no longer leverage their existing systems and data.
This is far from reality. Among SAP B1 truths, SAP B1 can easily integrate with third-party systems including non-SAP systems. Additionally, SAP B1 can work with data emerging from these systems and also synchronize SAP data with other systems.
Myth 10 – SAP B1 Functionalities do not Work after Going Live
SAP B1 is among the most reliable ERP tools in the market today. Organizations continue to use SAP B1 after going live in their production environment. All that they need to do is to implement the best practices in installing and configuring the SAP B1 tool. Once they go live, follow the recommended guidelines for updating and maintaining the ERP system.
Conclusion
With its wide range of functionalities and cost-effective implementation, SAP Business One is among the best ERP tools designed for small-to-medium enterprises. You must not believe in popular myths related to SAP Business One. Working with an experienced SAP implementation partner can help in guiding your SAP implementation and dispelling every myth.
Also Read: What Can Go Wrong in an SAP Implementation and How to Prevent It?
As a recognized SAP business partner, Praxis Infosolutions can help you optimize your business growth. With our SAP B1 solutions, you can standardize your business processes and adopt the best ERP practices in your organization.
Are you looking for a reliable SAP partner for your next ERP project? We could be the right one. Contact us today.