Essentially, a business process refers to any activities that must be performed to complete an end-to-end business scenario. For instance, the employee-related business process refers to all the activities—from recruitment to retirement—that an organization must execute.
As one of the largest ERP solution providers globally, SAP enables companies to manage their operations efficiently and run their business processes smoothly. This article will explain an SAP business process and how it can benefit your organization.
What are SAP Business Processes?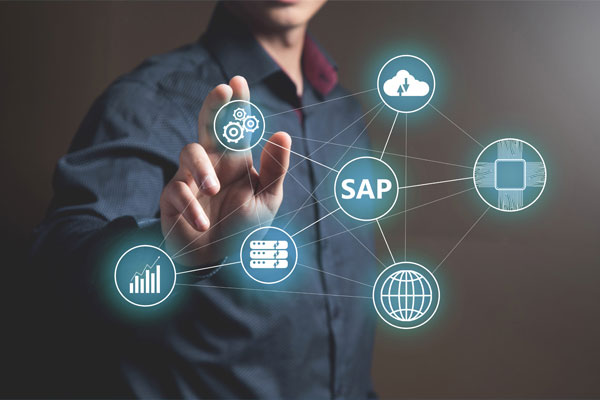 Simply put, an SAP business process is any set of tasks performed to complete a business scenario from start to finish using any SAP tool. SAP business processes can execute across integrated systems—for example, the HR and Finance module. Organizations can easily determine what must be done to complete a business scenario using an SAP business process.
Now that we have understood what are SAP business processes let's next discuss the three main groups of SAP business processes.
SAP Business Process Groups
The SAP Business Accelerator Hub supports three main groups, namely:
Recruit to Retire
Lead to Cash
Source to Pay
Let's understand each of these three groups in detail.
1. Recruit to Retire
Recruit to Retire, or R2R, is among the essential SAP business process groups required by businesses of any size or industry. Organizations need to hire employees and manage them with the right level of training, salary, and assignments. SAP enables companies to understand and manage every aspect of their workforce per their business objectives.
The R2R group comprises the following solution variants:
● Travel to Reimburse
This is a subprocess of R2R that encompasses all aspects of business travel—right from travel planning to reimbursement.
● Hire to Retire
This R2R variant covers all processes in the operational lifecycle of the company's internal workforce.
● External Workforce
This R2R subprocess covers the entire lifecycle of the external workforce.
2. Lead to Cash
Lead to Cash, or L2C, is another end-to-end process scenario that covers the entire customer service delivery experience. This group enables SAP customers to manage all phases of service delivery from start to finish. This includes the initial customer interaction, order fulfillment, and service delivery. L2C is a template-based process based on the best practices and the most common scenarios.
The Lead to Cash group comprises the following solution variants:
● Lead to Cash
This cloud-based variant enables the end-to-end scenario from the initial interaction until service delivery.
● Network-Based Sales Processing
This cloud-powered variant involves the order-to-invoice process and connects SAP S/4 HANA Cloud and the Ariba network.
The Lead to Cash group also includes the following subprocesses to improve overall efficiency:
● Contact to Lead
This initial step in the L2C process flow identifies prospects as potential leads or customers. This subprocess initiates once a new marketing campaign is launched. After customer consent and registration, the customer interactions are collected and ranked in the SAP Marketing Cloud. Sales leads are created based on a predefined lead threshold in the SAP system.
● Lead to Opportunity
SAP systems use advanced analytics to identify high-quality leads or retarget existing customers in this subprocess. This subprocess enables marketing teams to transfer potential leads to the sales team and convert leads into opportunities.
● Opportunity to Quote
This subprocess enables sales professionals to determine their readiness for an opportunity. During this process, the salesperson creates a customer quote, or customers create their quote.
● Quote to Order
The SAP system converts a quote into a purchase order during this subprocess. Using SAP Commerce Cloud, the quote is presented and negotiated between the customer and the salesperson.
● Order to Cash
The final subprocess categorizes the sales order as a subscription, physical, or service order. After fulfilling the order, the customer confirms the product's delivery and installation. The invoice generation process follows this in the billing system and the receipt of the customer payment.
3. Source to Pay
Source to Pay, or S2P, group tracks an organization's end-to-end sourcing and procurement process. This group uses predictive analytics and machine learning to ensure that the right suppliers are selected for procuring direct and indirect materials. With S2P, SAP customers can intelligently connect with millions of suppliers. Suppliers can also build profitable connections with many buyers.
The Source to Pay group comprises the following solution variants:
● Source to Pay
This cloud-based solution variant covers all aspects of strategic and operational procurement, including finding the right supplier, procurement, and receiving the goods and services.
● Source to Pay With Central Procurement
This central procurement process is integrated with connected systems. This variant allows SAP users to exchange business documents and information from a centralized system.
How SAP Helps in Running the Business Process of a Company?
Companies can manage their business processes with the SAP Business Process Management (BPM) solution. SAP BPM enables collaboration between employees and IT professionals through its standard notations and streamlined production environment. Organizations can also dynamically change their business processes according to changing organizational needs.
Effectively, the SAP BPM solution enables SAP users to:
Enable collaboration between business and technology teams
Create and maintain centralized business processes using Java-based process engines
Integrate business rules into daily processes
Track assigned employee tasks and address employee groups
Is it possible to customize the SAP business processes? Next, let's talk about SAP Business Process customization.
Customizing SAP Business Process
Customization is easy to implement in the SAP business process. Here are five essential steps to customize the SAP business process:
1. Define Your Business Needs
The first step is to define and communicate your business needs to all stakeholders. This step involves gathering crucial information to understand the need, identifying the issues, and signing off the business plan with the stakeholders.
2. Implement the Process Design and Modeling
The next step is to implement the SAP process design and modeling. Using modeling, SAP users can display the collected data in a visual format, which is easier to understand for all stakeholders. The SAP process design is a detailed plan that shows how decision-makers can use the system and its applications.
3. Construct the Business Process
Next, the SAP development team can build the business logic, write the required code, and integrate the SAP modules. Ensure the customized business process integrates with the SAP tool and performs according to the defined specifications.
4. Test the Customized Business Process
After development, it's essential to test the customized business process. This enables the QA team to detect bugs and issues early in development.
5. Deploy the Business Process
The final step is to deploy the new business process to the production environment. During this phase, investigate any process-related issues and find ways to improve the solution.
Also Read: Managing Production Processes Becomes Easier with SAP Business One Version 9.3
Conclusion
An SAP business process makes it easy for SAP customers to implement an end-to-end business scenario. We have discussed the various types of SAP business processes in this article and how to customize them for your business needs.
An experienced SAP partner can help you build customized business processes in SAP systems. They also have the expertise to integrate your business processes with third-party systems and optimize your existing business processes.
As an industry-recognized ERP solution provider, Praxis Info Solutions provides its customers with the right mix of technical skills, experience, and resources to implement any SAP project. With our expertise in SAP Business One , you can get started immediately on your next ERP project. We can help you customize your SAP business process to your business needs. If you want to know more, Contact us for a free product demo.
Business Intelligence & Analytics..
Perfect enabler for insightful decision making.

Call us on

+91-88050 25521/18/19