ERP inventory management is not an easy task in any manufacturing or retail company. With a load of moving inventory pieces and items, organizations find it challenging to keep track of every stock item in their plant facility.
Poor inventory management can hamper the productivity of every small and large enterprise.
Some of the common challenges associated with inventory management include the following:
Out-of-stock or excessive items
Poorly designed warehouse management
Unknown location and quantity of inventory items
Lack of real-time inventory tracking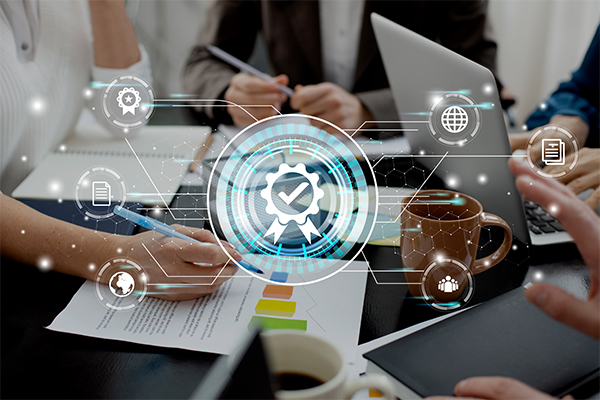 In this blog, we shall learn what is ERP inventory management and effective strategies to improve it.
What is ERP Inventory Management?
ERP inventory management is an integration tool or solution for business operations. It allows companies to manage all their business operations from a centralized platform. For example, the platform can integrate inventory with finance, operations, business planning, and logistics. In other words, an ERP inventory management system provides real-time visibility into inventories to the entire organization.
By sharing real-time data, the ERP system can efficiently manage inventory-related processes across all business functions. Each business function operates independently through integrated ERP modules and shares inventory data across all modules.
How is this beneficial to small enterprises? Effectively, they do not need to invest in multiple tools to manage their inventory across departments. Thus, they can save valuable time and expenses.
How can organizations improve their ERP inventory management using SAP Business One? Let's discuss this in the next section.
How SAP Business One can improve ERP Inventory Management?
Also known as SAP B1, SAP Business One is designed for small organizations to manage their inventory efficiently. With its in-built inventory management module, SAP B1 can simplify inventory management with the following capabilities:
Ability to manage item master data records.
Working with both serial and batch numbers.
Handling inventory-related transactions, including goods receipt & issues, item transfers, and stock level counts.
Managing various price lists, including special prices and discounts.
Generating real-time inventory reports.
What are the SAP Business strategies for efficient ERP inventory management? In the next section, we shall discuss the same.
SAP Business One Strategies for Better ERP Inventory Management
SAP B1 users can determine various strategies and best practices depending on their requirements.
Here are the best strategies of SAP B1 for ERP inventory management:
1. Automatic or Manual Allocations
SAP B1 customers can allocate and optimize their inventory levels manually or automatically. With the automatic inventory allocation, every sales order process automatically allocates stocks during any transaction update for measuring the available stocks.
With manual allocation, SAP B1 users can allocate purchase orders to sales orders. This allows for mass changes or reallocation based on the specific item code.
2. Real-Time Management of Inventory Data
With SAP B1 and connected barcode scanners, companies can automatically track the shipping and arrival of inventory items. SAP B1 uses an inventory barcode scanner to perform real-time inventory data management. It can also generate reports on the exact location of the inventory items and where they are being transported. This real-time inventory data is available on any connected device or mobile phone.
With this practice, organizations can ensure that the same inventory-related information is now available for warehouse workers, managers, and accounting personnel.
3. eCommerce Inventory Management
By integrating eCommerce platforms with SAP Business One, eCommerce retailers now have "live" updates of their eCommerce stocks. eCommerce executives do not need to worry about inventory lag as SAP B1 immediately updates its inventory quantity as soon as the item is purchased. Besides, eCommerce stores can now perform "Available to Promise" or ATP checks on the Internet.
Suppose your eCommerce solution relies on batch updates to maintain the inventory levels. In that case, your eCommerce orders will not be posted automatically to SAP B1 until the next batch update. This can create an unexpected backorder on posting the eCommerce order. This problem can be overcome through real-time SAP B1-eCommerce integration using web services.
4. Materials Requirements Planning (MRP)
For production efficiency, manufacturing companies must ensure the availability of raw materials at optimum levels. Out-of-stock situations can delay production and severely increase production costs. With SAP B1, manufacturers can leverage its MRP feature to accurately determine which material must be purchased or manufactured to satisfy real-time demand.
Using the MRP wizard, SAP Business One can measure inventory demand using the following:
Sales and inventory data
Bill of Materials or BOM
Demand forecasts
Purchase orders
Production orders
Organizations can also select the time frame to produce or procure an inventory item using the MRP feature. SAP B1 users can also configure their inventory reordering points based on the average consumption cycle.
5. Stocks or Goods Movement
Besides warehouse inventory management, SAP Business One also enables the maintenance of logistics and finances. With SAP B1, organizations can record when stocks or goods come in or go out in the form of the following documents:
Goods Receipt records the goods coming from suppliers or moving within the facility.
Goods Issue records the goods assigned to production or sold to the customer.
Returns Delivery is the document that records the goods returned from the customer or to the vendor.
Transfer Posting records the movement of goods from one place to another within the organization.
Additionally, SAP B1 can automatically track and update any changes in stock levels and prices. Using minimum and maximum stock levels, SAP B1 alerts inventory managers when to reorder a stock item.
6. Inventory Optimization
Inventory optimization as part of supply chain management is challenging for global enterprises. Supply chains depend on vulnerable factors like social buying trends, natural events, political changes, and the global economy.
Through proper SAP B1 inventory management configuration, organizations can optimize their inventory levels for efficiency. Using accurate inventory counting and reporting, SAP B1 provides real-time updates about inventory shipments & transfers between warehouses. This means inventory managers can track their product movement on a real-time basis.
Additionally, SAP Business One provides valuable insights into products that are not selling as much as others. This enables sales teams to liquidate stocks, thus saving both storage space and unnecessary costs.
Conclusion
Most organizations fall short when designing an effective strategy for improved inventory management. As an ERP solution for small enterprises, SAP Business One can optimize your inventory management from procurement to the final delivery. On its part, SAP B1 comes with amazing features to simplify your inventory management from the first day.
At the same time, small enterprises do not have the technical skills and experience to implement a complete SAP B1 inventory management process flow in their inventory systems. An ERP solution provider like Praxis Info Solutions can significantly help in such situations. Based on your business requirements, our team of SAP B1 consultants can recommend the best strategies to keep you competitive in the marketplace. Here's a blog about how enterprises can create an ERP system strategy for their business.
Are you seeking the right expertise to leverage your investment into SAP Business One? We can partner with you. Contact us today for a free product demo.
Business Intelligence & Analytics..
Perfect enabler for insightful decision making.

Call us on

+91-88050 25521/18/19