Traditional ERP tools offer basic reporting capabilities incompatible with advanced analytics requirements such as business intelligence or exploratory data analysis. Therefore, more organizations are adopting advanced ERP tools to integrate and streamline their business processes.
New-age ERP systems are intelligent enough to provide features like real-time data analytics. Although a crucial component, ERP analytics is a complex and time-consuming process for many companies. For instance, ERP reports can still have missing data, making it challenging for business executives to make accurate decisions.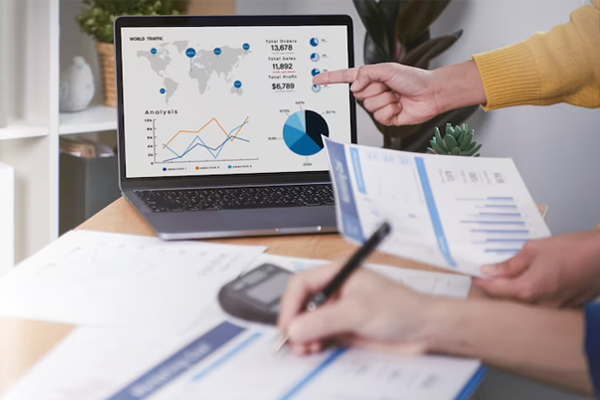 Additionally, ERP reporting requires specialized skills and knowledge to extract and format valuable insights from the available data. To meet these challenges, ERP customers must choose the best ERP reporting tool for accurate reporting and analysis of their ERP data.
In this blog, we will discuss some of the essential features of ERP analytics for improved data reporting and analysis. Let's get started.
10 Essential Features of ERP Analytics
Undoubtedly, ERP analytics can improve business decision-making, resulting in operational efficiency, lower costs, profitability, and reduced risk. Organizations must choose the right ERP tool with advanced analytics functionality to leverage these benefits.
Here are the 10 essential analytics-related features to look for when evaluating your best ERP tool:
1. Integration with Multiple Data Sources
As the number of available data sources keeps increasing, it becomes tedious for organizations to connect their ERP tools with these data sources. A pre-built ERP integration with analytics can save time and manual work. Therefore, make sure your ERP solution is pre-built with integrated data sources.
For instance, the ERP tool should be capable of importing data from business applications such as CRM and Excel spreadsheets. Doing that would give business users 360-degree visibility into their operations and insights into improving the process.
Also Read: From Excel to ERP—Why You Should Make the Switch
2. Visual and Interactive Interface
In the age of data visualization, business users prefer to view their data through interactive graphs, charts, and other visual elements. Your ERP analytics tool must support visual and interactive elements such as pie charts, heat maps, and radial diagrams for broader acceptance and use. Additionally, the tool must be intuitive to provide users with visual cues and enable them to understand the presented data.
3. Data Organization
Without organized data presentation, no ERP tool can support effective data analysis and reporting. Here are some of the ERP features that you can use to organize your data:
Dynamic Filtering: Enables users to filter unwanted information from a data table or graph.
Grouping: Enables users to group the presented data based on date, product name, customer name, or other parameters.
Drill-down Facility: Enables users to click on any data point to drill down to a more detailed view of the information.
4. Automated Report Generation
Organizations can run data reporting with automated report generation according to a predefined schedule or time. Also, they can automatically send the generated reports to interested stakeholders such as employees, customers, or suppliers. This feature ensures that organizations do not lose productive time due to human or manual intervention.
5. Support for Multiple Document Formats
ERP tools must enable users to export the data to various document formats, including PDF, CSV, and Excel, for effective analytics. Document-related features like Intelligent Document Recognition can also help organizations ingest data from PDF documents and other formats. This can significantly reduce manual data entry and improve accuracy.
6. AI Capabilities
Artificial Intelligence (AI) can have a transformational impact on your ERP analytics. AI-enabled ERP tools can help organizations streamline business processes using machine learning models and conversational AI. ERP tools with AI capabilities can benefit operational activities like supply chain management and production. For instance, it can improve predictions by analysing historical data and existing market conditions.
Additionally, AI models can impact the efficiency of sales forecasting and inventory management and reduce unplanned machine downtime.
7. Intuitive Dashboards
Both business and technical users can make better decisions with access to pre-built dashboards on their ERP implementation. With intuitive and customized dashboards, ERP users can access relevant information without depending on IT assistance.
The best ERP tools feature intuitive dashboards that combine internal and external information across integrated applications like CRM and Business Intelligence (BI).
8. Real-Time Analytics
Real-time analytics capability provides organizations access to the latest real-time data and information. With instant data updates, business leaders can make informed business decisions faster and more accurately. As ERP tools become more intuitive and user-friendly, they can now collect and analyse information from any business operation.
With real-time analytics, you can also configure and track relevant key performance indicators (KPIs) for better decision-making. Organizations no longer have to invest separately into a BI tool for this level of real-time analytics, thus saving them money.
Also Read: How ERP Can Be Used to Improve Company Performance
9. Mobile-Friendly
ERP customers can also improve their productivity by using a mobile-friendly ERP tool. With a mobile-friendly ERP application on their phones, business executives, including sales professionals, have real-time access to ERP data while on the move. They can also respond faster to customer queries and improve their customer service.
With access to real-time data on their mobile phones, business leaders have complete visibility into their business operations and can implement corrective actions whenever needed.
10. Smooth Data Sharing
Thanks to the integration, ERP system can collect and store data from various business processes and applications. With effective analysis and reporting, ERP tools must enable users to share crucial information with business stakeholders, including CEOs and sales teams. Multiple teams can now access ERP data on shared dashboards without signing into any ERP system.
Also Read:
Conclusion
Effective analytics and reporting are now essential in any modern ERP tool. This blog looked at some essential analytics-related features for evaluating ERP tools.
To help organizations with their ERP implementation, an ERP solution provider like Praxis Info Solutions can bring in years of industry experience and technical expertise. We are an award-winning implementation partner for SAP ERP solutions like SAP Business One. Our team of ERP professionals can advise on the best ERP tool for your business. Here's a blog about how to create an effective ERP strategy that works for your organization.
Are you looking for professional help with your ERP implementation? Contact us today with your requirements.
Business Intelligence & Analytics..
Perfect enabler for insightful decision making.

Call us on

+91-88050 25521/18/19