How Does SAP Business One Manage the Foreign Currency Exchange Rate?
If you are managing your business regularly using foreign currencies, you are most likely to be impacted by constant fluctuations in the foreign exchange rate. For example, if you raise an invoice for a US-based client at one exchange rate, you could be paid at another rate simply due to the difference in the dollar exchange rate between the two dates.
The foreign exchange currency rate can result in either gains or losses for your business. Through this article, we shall discuss how the SAP Business One or SAP B1 tool manages the foreign currency exchange rate for your business.
Managing the Exchange Rate Difference in SAP Business One
If your business is managing financial transactions such as accounts receivables/ payments in foreign currencies, you can generate the "Exchange Rate Difference" report in SAP B1 to reflect the exchange rate difference in your financial statement. With this feature, foreign currency values are converted to the local currency based on the updated exchange rate and compared with the original currency value to measure the gain or loss.
You can set the foreign exchange rate difference in SAP B1 using the "Administration > Setup> Financials > Exchange Rate Difference" feature. This feature provides recommendations in exchange rate differences, which is useful for business partners and customers.
Also Read: Why Praxis is the Right Partner for Implementing SAP Business One?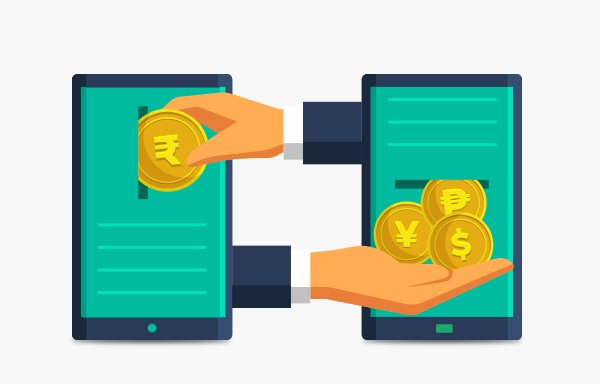 What is the exchange rate difference key in SAP B1? Typically, due to fluctuations in foreign exchange rates, companies can record either gains or losses when dealing with foreign currencies. On its part, the SAP B1 tool can automatically post the differences in exchange rates to the general revenue or expense accounts as gains or losses respectively. The exchange rate difference key in SAP Business One is used for the valuation of foreign currency during yearly account closing. This key is stored in the master record of the G/L account. Using this feature, you can create one gain or loss account for each currency or each currency type.
Also Read: 10 Questions to Ask While Evaluating Business Intelligence Tools
Next, let us look at how to set or change the foreign exchange rate using SAP B1.
Defining the Exchange Rate in SAP B1
How can you set an exchange rate in SAP B1? First, add and define all your foreign currencies in the "Currencies" functionality under the Financials module.
Also Read: Internal Controls on Financial Reporting – How SAP Business One helps
For any business partner account, you can choose from the three following options:
Local currency (LC)
Foreign currency (FC)
All currency (AC)
When creating a business partner, you need to specify the FC, for example, USD, which will display the current exchange rate from the "Exchange Rates" table.
How do you display the exchange rate in SAP B1? By selecting the exchange rate method from the General Settings > Display tab. The available exchange rate methods are:
Direct to display exchange rates based on LC. For example, 1 FC = "X" LC. For the Direct option, the specified foreign currency is displayed with its local currency value.
Indirect to display exchange rates based on FC. For example, 1 LC = "X" FC. For the Indirect option, the local currency is always displayed with its foreign currency value.
How do I change the exchange rate in SAP B1? After you have made the journal entries using these selections, you cannot change the exchange rate method.
Next, let us look at how to change the currency in SAP B1.
Changing the Currency in SAP B1
You can specify the default currency for any customer or company in the "Basic Initialization" tab under "Company Details"—Administration > System Initialization. From the "Basic Initialization" tab, you can use the "Local Currency" box to define or change the local currency.
However, you cannot change the currency once you have made any transaction, for example, placed a purchase order, using the defined currency.
SAP B1 and Managing Currency Exchange Rates
Here are some additional key points you must consider when handling foreign currency exchange rates in SAP B1:
SAP B1 tool manages currencies using either the local currency in which the company must reconcile its accounts or system currency that can differ for global subsidiaries of multinational companies.
For companies where the local currency differs from the system currency, SAP B1 automatically calculates all account postings in the local currency along with a real-time account balance in system currency.
Every business partner account and G/L account must have a defined currency configured as local, foreign, or all currencies.
SAP B1 system manages its system reconciliations to balance its local and system currency.
SAP B1 automatically posts any difference in foreign exchange rates to the Exchange Rate Difference account, which clears any account difference in the local or foreign currency.
SAP Business One enables companies to configure multiple currencies including local and foreign currencies.
Companies with business operations across countries can use the SAP B1 foreign currency revaluation capability using freely defined currencies other than their group currency.
Conclusion
Effectively, the SAP Business One tool allows a company to post its financial data in any local or system currency. Using this tool, currency users can easily define the currencies along with the prevailing exchange rate that can be used across all business functions.
An SAP Business One consultant like Praxis Info Solutions can enable your business to manage the foreign exchange rate differences in SAP B1. Quick to implement, Praxis solutions in SAP Business One are designed to automate your entire business operations.
Looking for help in streamlining your foreign currency exchange rate? Drop us a message with your query today.
Business Intelligence & Analytics.. Perfect enabler for insightful decision making.

Call us on

+91-88050 25521/18/19