Project Management in SAP Business One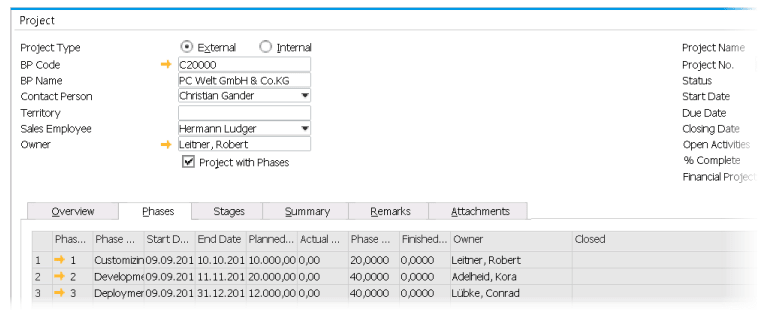 By Dattatreya R.Kulkarni Posted March 7, 2016 In Project Management
SAP Business One is a complete and flexible software solution to manage essential processes in small and midsize businesses, including accounting and finance, sales and service, inventory and distribution, purchasing, operations and the very newly added "project management".
In versions of SAP Business One prior to 9.2, users were able to create a project code, which was essentially performing the function of an aggregator of revenues and expenses of any particular project being undertaken, and help keep a track of the financial performance of the project. However, with the full-fledged functionality being introduced now customers stand to gain significantly.
Project Management in SAP Business One Offers
Combines both financial and project management data in one solution.
Centralize all project related transactions, documents, resources and activities in one place.
Depending on the size and scope of a project, it can be split into different "Sub Projects" or "Phases" which may represent a functional area for example.
By using these tools, customers can expect the following benefits
Helps to monitor the progress of: Tasks, Stages & Phases.
Manage projects more effectively from start to finish.
Better project transparency by analysing budget and costs and generating reports on aspects of the project, such as stage analysis, open issues and resources.
Project Management has been a much awaited functionality coming in from SAP directly. Till date, customers depended on third party add on solutions. At Praxis alone, we have already started implementing this functionality for new as well as some of the existing customers.