Export Document Processing Made Easier with SAP Business One
By Dattatreya R.Kulkarni Posted December 27th, 2018 | Benefits of SAP Business One, Management, SAP Technology.
Following the process laid down by the GOI and complying with all documentation is an inherent business function for any export house.
As per the established process, there are a bunch of documents required with every export consignment like common export documents, transportation documents, export compliance documents, certificates of origin, other certificates for shipments of specific goods, other export-related documents, and temporary shipment documents. Not just this, every company that exports goods also has to plan the shipment with respect to a container whether it is FCL or LCL etc.
Many export houses in India in the SME sector rely on niche software applications that cater to the export documentation alone. Whereas such applications are aligned to the basic documentation needs, they are rarely integrated with actual operational data and are susceptible to manual error. In such scenario companies rely on a large team that is responsible for creation, verification, making corrections, reverification etc. There is a significant manual effort needed to coordinate with various departments in the company that provide critical inputs to such documentation.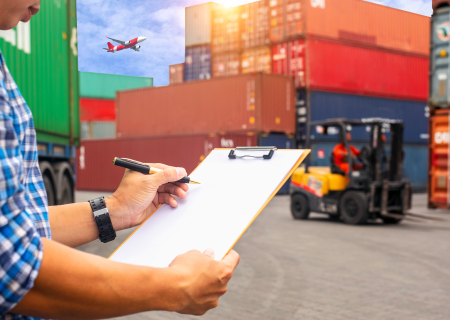 Praxis has developed an add-on solution within the SAP Business One application. This solution addresses several pain points with respect to export container planning and documentation processes. Highlights of the solution are as follows:
Tightly integrated with operational transactional data

Information captured at the time of booking a sales order contains all relevant data with respect to the downstream shipments expected

All export documentation generated from SAP system itself. Some prominent examples of such documents are:

Internal/Proforma Invoice

Commercial invoice/Customs Invoice

Packing list

Phyto Invoice

Bill of lading draft document with all relevant details

Annexure C Factory Stuffing

Application for Certificate of origin under INKCEPA

New India-Korea CEPA

Examination Report (EOU)

New SAARC Preferential Training Arrangement

New INDIAN MERCHANTS CHAMBER

New ICA

Helps in planning a container – takes inputs from multiple sales orders that contain LCL shipment quantities

Helps managing advance licenses and MEIS scheme benefits

Multiple Reports

Lastly, this solution removes your dependency on a third-party software just for documentation purposes and brings entire business data on a single centralize SAP Business One system