Easily Integrate SAP Business One with Other Systems
By Dattatreya R.Kulkarni Posted March 21st, 2018 | Benefits of Management, SAP Technology.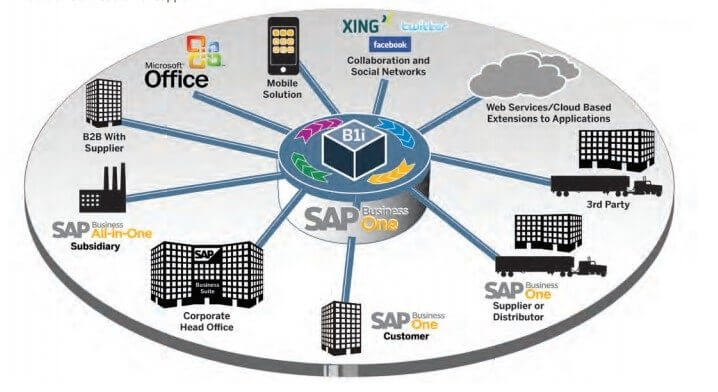 SAP Business One is a comprehensive ERP solution from SAP that can serve as the Enterprise IT backbone. It caters to a multitude of business processes like CRM, Sales, Purchase, Inventory, Production, Accounts & Finance etc. Not only does the application provide features to capture data from various business transactions in real time but it also delivers a powerful reporting and analytical (on HANA platform) capabilities thus enabling a data driven decision-making process or culture in the company. This level of IT enablement works well for most of the companies in the SME segment.
However, there are certain companies that may be using IT applications that cater to very specific or niche process in their operations. In most cases, such niche applications are expected to continue to be a part of the solution landscape even after adopting a solution like SAP Business One. In this scenario a crucial question to be answered is whether SAP Business One can interface with the application? Will it be able to seamlessly exchange data (unidirectional or bidirectional) in real time? Does SAP Business One have the technical capability to handle high volume of data exchange in a scalable manner?
The answer to all these questions is a big YES. Whether a company adopts SAP Business One on MS SQL platform or SAP HANA, the solution intrinsically has the technical capability to handle such scenarios. There are multiple options available in SAP Business One to achieve this. For example:
In SQL based installations

Data Interface (DI) APIs

User Interface (UI) APIs

DI server-based interfacing

In SAP HANA based installations

Service Layer based integration

B1iF – Business One Integration Framework which enables SAP Business One to really play a role of a Business Platform that interacts seamlessly with several other applications in the solution footprint

B1iSN – Business One Integration Framework with pre-packaged rich content to enable SAP Business One interact seamlessly with SAP Business Suite components like SAP ECC6/ S4. This scenario is applicable when subsidiaries (running on SAP Business One) need to be integrated with parent company (that runs on SAP ECC6 or S4 HANA)
SAP keeps offering latest technologies to its customers, free of cost, in order to make the SAP Business One solution 'easy-to-integrate-with' so that complex multiple application-based solution footprints can continue to operate even after addition of SAP Business One to the mix.
So, in summary, SAP Business One is technically well equipped and can handle complex interfacing requirements.
Note: SAP Business One has been developed keeping the SME sector in mind and offers world class business process practices as standard features at attractive price points. If you would like to know more about why SAP Business One is the right solution for an SME, please click here. We commonly hear from companies in SME segment that SAP solutions are meant for large enterprises and not for them. Please click here to know more about the myths about SAP solutions especially making rounds in the SME sector.